In this article, let's find out the definition of scope ring height and the most accurate rifle ring height details chart for 25-65mm objective.
What are the Ring Heights?
Ring Heights are measure from the closest contact point at the receiver to the bottom of the ring cradle. The following rules apply to most, but not all, of our rings:
(Front Rings) Extra Low .300 inch
Low .400 inch
Medium .500 inch
Extra High .600 inch
In some cases, like for example, the Browning A-Bolt add .05 inch to the above heights.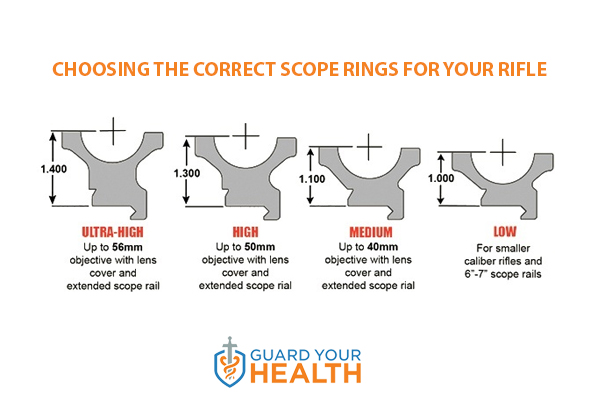 Rifle Scope Ring Height Information Chart
This chart provides a guide to scope ring height, based on the outside diameter of the target in your range.
The outer objective diameter is measured from the bell itself, not the glass.

Ring height from top of base to bottom of scope.
| Outside Objective Diameter | Ring Height for 1 Inch Tubes | Ring Height for 30mm Tubes |
| --- | --- | --- |
| 25mm, .984 inches | .150 inches | |
| 26mm, 1.023 inches | .150 inches | |
| 27mm, 1.062 inches | .150 inches | |
| 28mm, 1.102 inches | .150 inches | |
| 29mm, 1.141 inches | .150 inches | |
| 30mm, 1.181 inches | .150 inches | |
| 31mm, 1.122 inches | .150 inches | |
| 32mm, 1.259 inches | .150 inches | |
| 33mm, 1.299 inches | .150 inches | |
| 34mm, 1.338 inches | .150 inches | |
| 35mm, 1.377 inches | .150 inches | |
| 36mm, 1.417 inches | .270 inches | |
| 37mm, 1.456 inches | .270 inches | |
| 38mm, 1.496 inches | .270 inches | |
| 39mm, 1.535 inches | .270 inches | |
| 40mm, 1.574 inches | .270 inches | |
| 41mm, 1.614 inches | .270 inches | |
| 42mm, 1.653 inches | .270 inches | |
| 43mm, 1.692 inches | .270 inches | |
| 44mm, 1.732 inches | .270 inches | |
| 45mm, 1.771 inches | .270 inches | |
| 46mm, 1.811 inches | .270 inches | |
| 47mm, 1.850 inches | .270 inches | |
| 48mm, 1.889 inches | .270 inches | |
| 49mm, 1.929 inches | .270 inches | |
| 50mm, 1.968 inches | .270 inches | .300 inches |
| 51mm, 2.000 inches | .270 inches | .300 inches |
| 52mm, 2.047 inches | .270 inches | .300 inches |
| 53mm, 2.086 inches | .270 inches | .300 inches |
| 54mm, 2.125 inches | .270 inches | .300 inches |
| 55mm, 2.165 inches | .270 inches | .300 inches |
| 56mm, 2.204 inches | .390 inches | .300 inches |
| 57mm, 2.244 inches | .390 inches | .300 inches |
| 58mm, 2.283 inches | .390 inches | .300 inches |
| 59mm, 2.322 inches | .390 inches | .300 inches |
| 60mm, 2.362 inches | .390 inches | .300 inches |
| 61mm, 2.401 inches | .390 inches | .410 inches |
| 62mm, 2.440 inches | .390 inches | .410 inches |
| 63mm, 2.480 inches | .390 inches | .410 inches |
| 64mm, 2.519 inches | .500 inches | .410 inches |
| 65mm, 2.559 inches | .500 inches | .410 inches |
References collected from:
Ring Height – https://www.midwayusa.com/how-to-guides/ring-height
https://store.talleyscoperings.com/pages/faq-frequently-asked-questions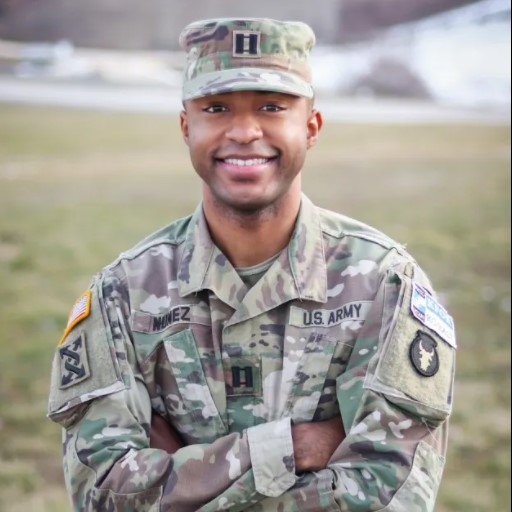 The 16th Sergeant Major of the Army, Sgt. Maj Christian Smelling was sworn in on August 11th 2009 and has held every enlisted leadership position ranging from cannon crew member to command sergent major