The military jacket is a popular clothing style often seen in movies and on television. This type of jacket is typically made from a heavy material, such as leather or denim, and has a number of pockets and other features that make it ideal for wear in harsh conditions. 
Military jackets are often worn by members of the armed forces, as well as by civilians who wish to show their support for the military.
So how to wear a military jacket fashionably?
Read this article for more details.
Wearing a Military Jacket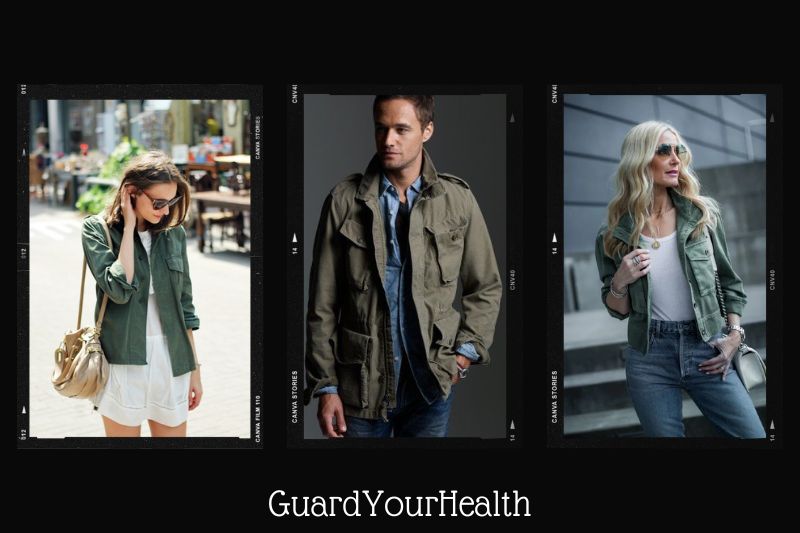 Join us as we explore the basic idea of military jacket fashion before diving into the various methods to style a military jacket.
The military aesthetic is making a comeback in 2020 and 2021. It produces striking trademark appearances that work well in a range of situations. A military jacket is always a good choice, no matter what the circumstance. It is simple to match with various colors and fulfill seasonal requirements.
No matter your age or gender, you can look good in military jackets. For instance, a fast Google search for men's military jackets or men's military shirt jackets might lead to hours upon hours of shopping.
So, now that you have a decent sense of how fashionable military coats are keep reading to find out how you can get in on the trend.
The Buying Procedure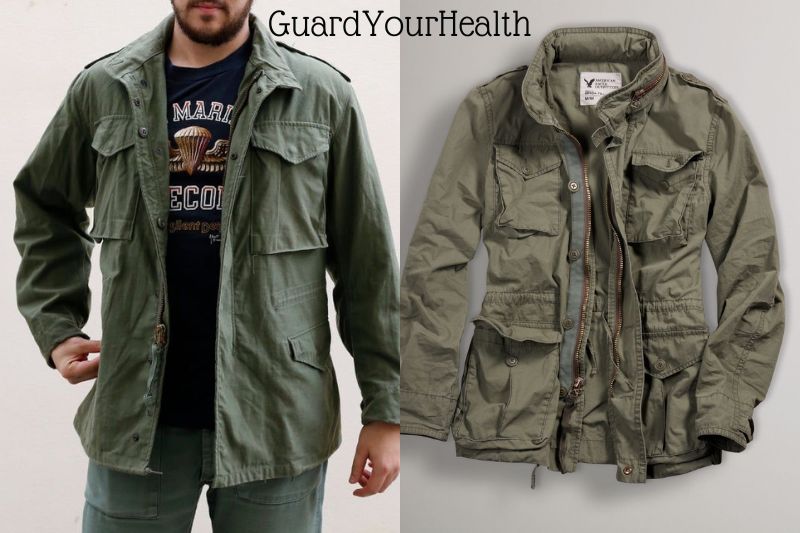 It can be difficult to choose just one military jacket because there are so many variations on the market. We have included some of the most crucial things to think about when purchasing to spare you the trouble:
Material Arguably, this is one of the most crucial considerations you need to make. The fabric may indicate your jacket's quality and durability. Additionally, it may affect how comfortable and functional something is while worn.
Several military coats are available for use with various military branches and scenarios. Therefore, the amount of materials used is the same. However, a cotton and nylon blend is the most typical material for regular military jackets.
Knitted polyester, khakis, cotton twill, and wool are some other fabrics that you could hear mentioned when people are talking about military coats. Felt cloth was also widely used in the past.
Color
Military jackets come in a wide variety of colors, much like other types of clothing. However, most wear neutral and simple colors like beige, brown, and moss green to resemble real military jackets.
These are referred to as the camo palettes and colors as a whole. For instance, the market is filled with outfits that feature green army jackets. However, buying military jackets in more striking hues, such as red and blue, is still possible.
Features
Genuine military jacks frequently have unique characteristics that make them the uniform that is provided to personnel. For maximum practicality and convenience, they will, for instance, be wrinkle-free, water-resistant, and fire-resistant.
These characteristics, meanwhile, are less likely to be seen on military-style jackets that civilians can purchase at a mall or neighborhood shop. Considering that they simply resemble military uniforms in terms of appearance.
Size, brand, and wash and care instructions are other equally important considerations. The military jacket that perfectly balances all of these factors is the best.
Check out these military jacket ensembles for ideas to establish the tone for the next part.
I'll get into the precise ways to dress in a military jacket now. Here are seven ideas!
How To Style Military Jacket
1. Wear It In Layers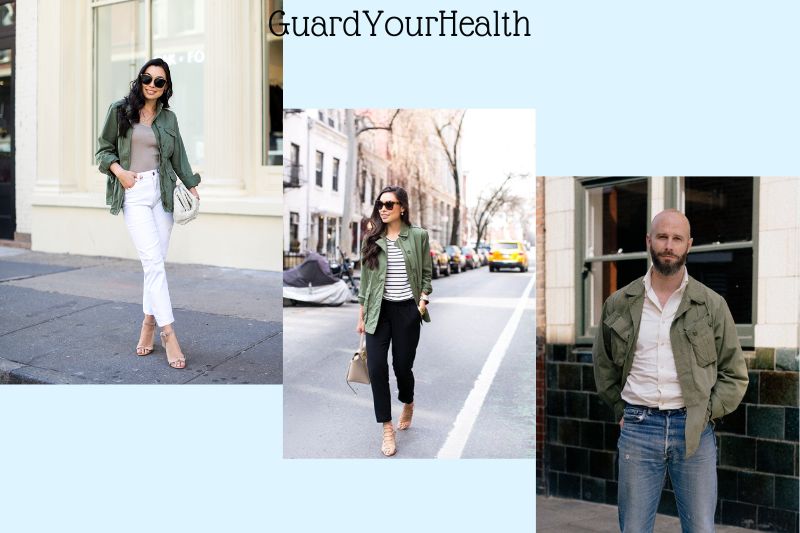 This is a decent default look for informal settings. It is not very expensive to maintain and is quite simple to nail. Simply sling it over a plaid flannel button-down, leaving neither layer buttoned.
The basic tee shirt should be worn underneath the patterned top. Avoid pattern-filled military coats with this look, and choose ones in simple colors. For a classic streetwear look, small adjustments include tucking your flannel in or rolling up the sleeves. Any bottoms, such as shorts, slick slacks, or distressed jeans, look good with them.
2. Dress It Up As A Baggy Top.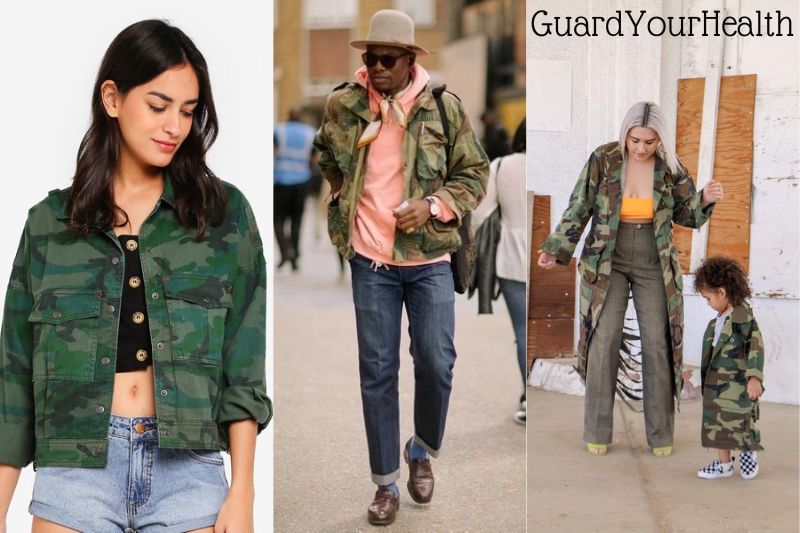 This is a cool choice for all sexes. You only need an oversized military jacket. It should be specifically one or two sizes bigger than your typical everyday top. Put it on and close the buttons completely! For a basic yet stylish look, wear it with a pair of jeans or shorts.
When you want to appear good and feel comfy at the same time, go with this look. With this military jacket style, your upper torso and arms are free to move. It looks great with both boots and sneakers. You can even choose to wear slippers if you'd like!
3. Place It On Your Hip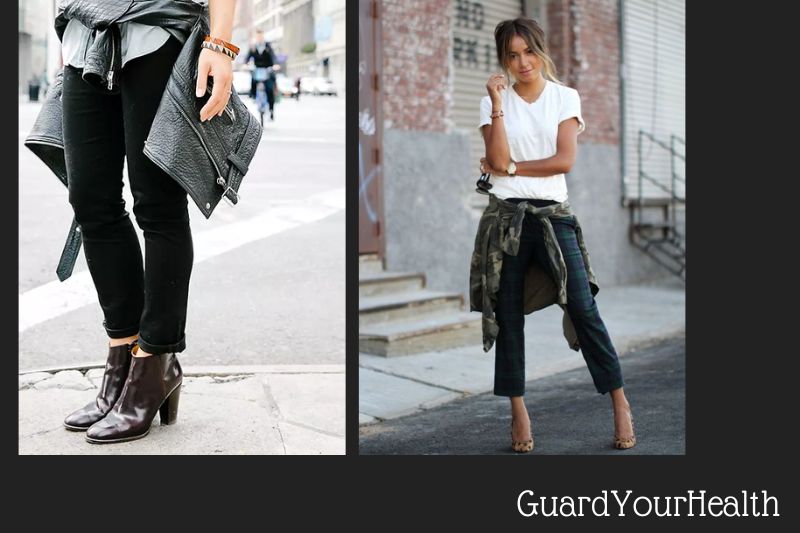 Both the summer and fall seasons can wear this. You could probably style it in your sleep because it's that simple to do! Simply choose a lightweight, thin military jacket, tie it at the waist or hip, and wear it. You can pair it with everything and still look stylish, including shorts, jeans, graphic t-shirts, and tank tops.
It's also perfect for those who wish to add some flair to a basic body-tight dress! We advise wearing black outfits to make a striking contrast. Simple shoes, boots, or heels can be worn with this.
4. Put On It With Professional Pants.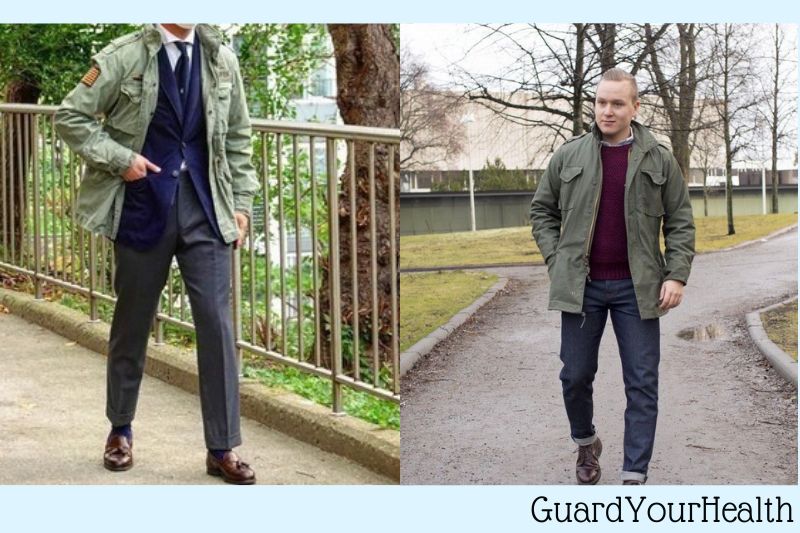 With this outfit, you can go for a professional work look or a sophisticated casual one. Put a button-down top over your military jacket and tuck it into your slacks. Check out American actor Aaron Eckhart's military jacket style for men as motivation!
You can think about adding belts or waistbands to finish the look. For a more upscale fashion appearance on women, high-waisted pants work best. You can finish it off in heels!
5. Put On With Skirts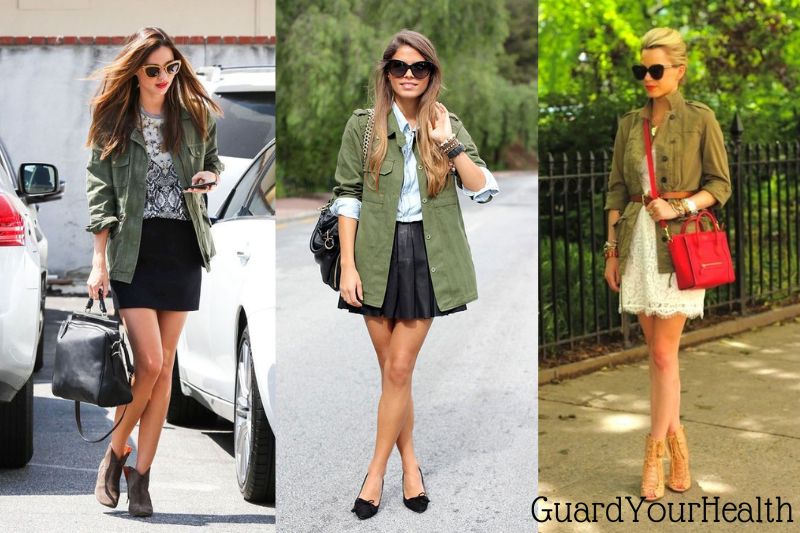 You can choose from a wide variety of skirts for this look. But the outfit with the tulle skirt and military jacket is our fave. The greatest of both worlds are displayed here! Who would have believed that one style could convey both masculinity and femininity?
It is appropriate for everyone who enjoys accessorizing a straightforward outfit and wearing skirts. Finding the ideal jacket to match shouldn't be difficult because military coats come in a variety of hues.
6. Wear It Cropped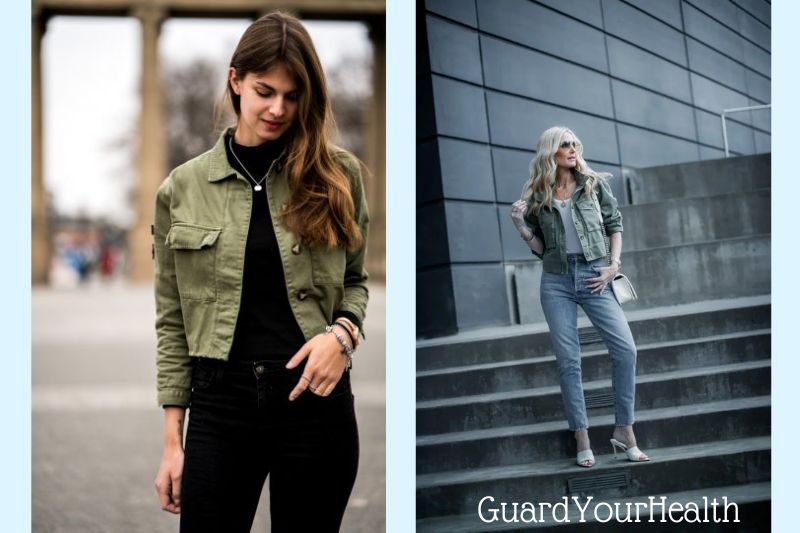 Although some tailoring and alterations will be necessary, the final result won't leave you unimpressed. Cut the sleeves off your military jacket and wear it with a dress, bodysuit, or a basic tee and jeans outfit.
The options are essentially limitless! Although it is entirely up to you, we personally enjoy wearing it with black leggings to accentuate our curves. This looks great with both high boots and uggs.
7. Wear It With Accessories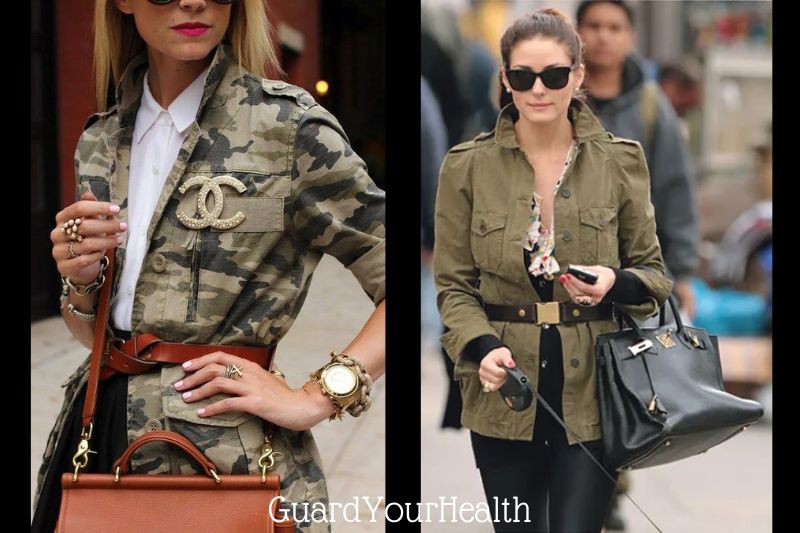 Military jackets pair well with a variety of accessories. You can add a beanie, fedora, or baseball cap, depending on the style you want to achieve. It complements most, if not all, jewelry pieces, including bangles, necklaces, and earrings. A military jacket will look excellent with tote bags, handbags, or satchels.
Consider adorning your military jacket with pins, badges, and embroidered patterns to take it to the next level. You will undoubtedly like customizing your jacket if you enjoy working on DIY projects.
Watch this video to know what to wear with an army jacket:
FAQs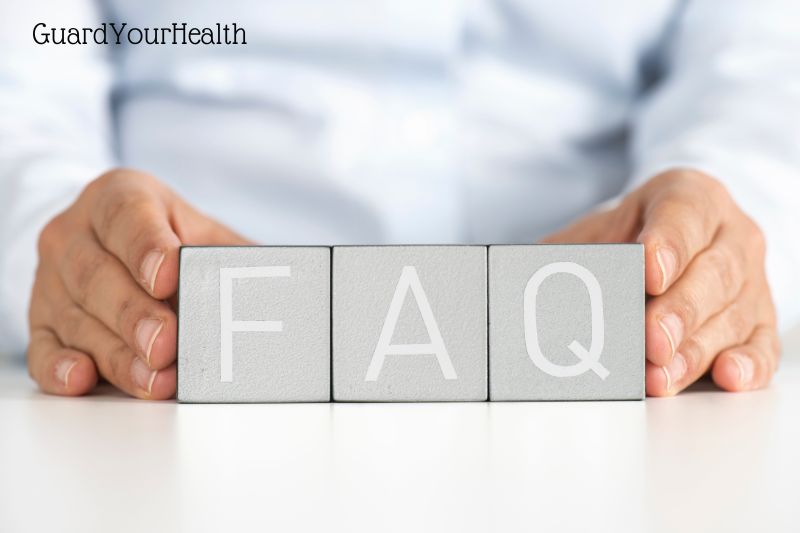 1. Is it OK to wear a military jacket?
TLDR – In the United States, it is legal for civilians to wear military uniforms. However, it is against the law to impersonate a member of the military for personal gains, such as wearing a uniform to commit fraud.
2. How do you style a field jacket for men?
"The simplest and most relaxed way to wear the field jacket is with a classic crew neck T-shirt or polo shirt, jeans and a pair of crisp white sneakers," says Farnham. "Keep it simple," says Pinto-Hervia. "Although the field jacket may be neutral, it is still a statement piece you don't want to detract from.
3. Are military field jackets warm?
Used by the Army for decades, nothing beats the cold better than a military field jacket. Offering a variety of styles and colors to suit your needs, these military coats are sure to keep you warm, comfortable, and looking good all winter long.
Conclusion
A military jacket is a type of clothing soldiers wear, typically made from a heavy fabric such as denim or canvas. It usually has a button-up front and a variety of pockets and may also include a hood. Military jackets are often worn as part of a uniform but can also be purchased as casual wear.