The handgun holster is a common device used widely by police officers and civilians with gun licenses. There are various holster product lines offered by different brands on the market.
Each type of holster has unique strengths and disadvantages that target specific needs and users. Choosing a high-quality holster brings you a safe experience.
This post will discuss "types of holsters" and shed more light on the best holster products available in 2022.
You can select the most optimal device suitable for your needs and preferences based on the information provided.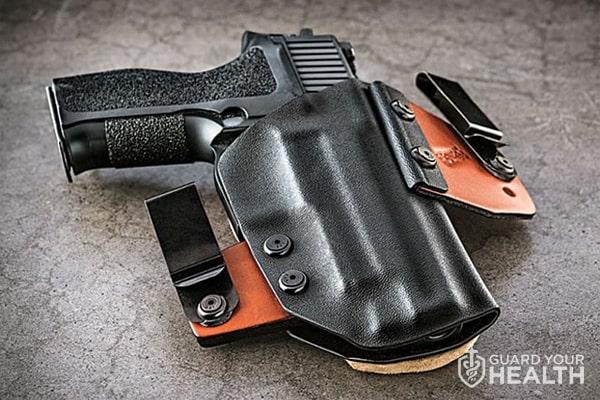 What Is A Holster?
You can carry a handgun to protect yourself against unexpected threats with a gun-using license. A holster helps you hold the gun safely in a tight position to avoid undesired movements.
The holsters are made of different materials (usually leather). The main characteristic that differentiates the holster types is their holding positions.
They can be attached to various positions on your body, such as the belt, waistband, shoulder, or ankle, to help you draw or access the weapon with ease in a short amount of time.
Another important characteristic of holsters is the retention level or safety level (universally from 1-4). Devices with higher retention levels require users to perform more steps to draw the carried weapons.
What To Look For In A Holster?
Overall, a good holster is the one you feel most comfortable and accessible to use. It depends on your needs and applicable circumstances, such as working as a police officer or joining a shooting competition.
Each types of open carry holsters has a different design and wearing position suitable for specific outfits and professions. Some devices are hidden from the view of other people, such as concealed or shoulder holsters.
These product lines are preferred by secret agents. If you are a police officer or civilian, a seeable handgun will help you avoid unexpected threats.
Gun enthusiasts should value the design and appearance of the holster over accessibility and comfort. You may want to cosplay your favorite character in the movies or set up a cool outfit.
Types Of Holsters
We will classify the types of holsters based on three basic characteristics:
Holding positions (concealed or open carry)
Retention or safety levels
Here is the list of 7 holsters in different categories to help you select the most suitable one for your needs.
1. Leather Gun Holster
Leather is the most classic and well-known holster material in the world. A holster made of leather is more than a gun holding device; it is a piece of art sought after by every gun enthusiast in the world.
The majority of gun shields are leather which can withstand high heat from the hot gun barrels. It brings great comfort, durability, and aesthetics.
Due to their classy and splendid design, leather holsters possess a charismatic appearance. Some high-end models have suede linings to protect your gun from scratches.
PROS
CONS

High durability and comfort.
The capacity to absorb heat.
Protect your firearm against scratches.
Beautiful appearance.

Susceptible to moisture and pressure.
High costs.
2. Kydex Holster
Kydex holsters are made from thermoplastic, a durable and innovative material. Due to its high flexibility, thermoplastic can be molded into any shape to produce diversified designs of Kydex holsters.
Kydex holsters can hold the firearm as tight and steady as any leather product. With thermoplastic, you can order a customized holster with minor details perfectly suitable for your favorite gun.
The high flexibility and versatility of polymer help differentiate Kydex holsters from leather gun shields. Many gun users, including police officers and gun enthusiasts, are gradually switching to this material.
PROS
CONS

Durability and versatility.
Affordability.
Customizable.

Little protection for your firearm.
Low comfort.
3. Belt Holster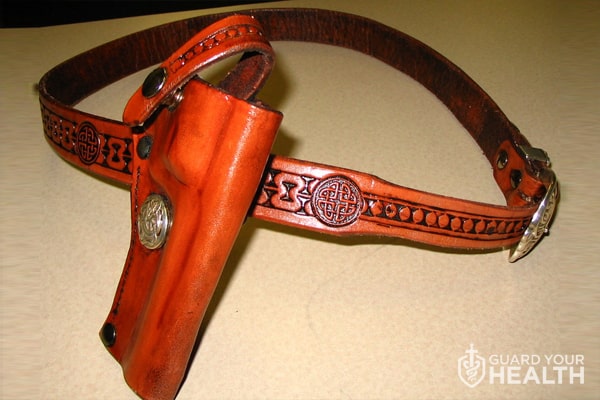 The majority of gun users wear their holsters on their belts or waist. The belt holster is attached directly to a regular belt on your hip.
This product line is generally divided into concealed and open carry options. You have to wear an additional belt to use this type of holster, so it is not applicable for every outfit.
It is very hard for the holster clamped tightly to your pants or belt to fall off unless the entire belt does. This feature adds to the safety of the belt holster as no one can grasp the gun from your belt.
PROS
CONS

Great retention and safety.
Highly recognizable.
Impossible to remove or steal.

Low comfort.
Difficult to adjust wearing position or angle.
Hard to access when crouching.
Must wear an additional belt.
4. Paddle Holster
Similar to the belt holster, paddle holsters can be placed on your hip or waist. The main difference is that you don't need to attach it directly to a belt.
A paddle holster has a spring-based clip shaped like a paddle made of plastic or leather. It can be worn on the waistband of your pants with the clip attached inside.
For this reason, users can easily adjust the position and angles of the paddle holster on the waistband. Some high-end models have a shelf to keep your firearm stable when running or jumping.
PROS
CONS

Flexible positioning and adjusting angles.
Easy removal or reposition.
High accessibility.
Easy to conceal

Low security.
Unsuitable for open carry
5. Thigh Holster 
The thigh holster is loved by professional shooters and secret police forces. As the gun is placed near your dominant hand, this product offers the highest accessibility among the types of gun carry.
Wearing a thigh holster generates less pressure on your waist and lowers the risks of hip injuries. You can sit easier with this gun shield on your leg.
Thigh holsters also free up more space on your waistband, allowing you to carry more accessories such as magazines and light or backup firearms. Police officers with a small waistband should opt for this product.
However, the thigh holsters can impair your body movements when running or jumping through hurdles and fences. Therefore it is not ideal for patrol activities and chasing criminals.
PROS
CONS

Free up space
Great accessibility
suitable for sitting

Uncomfortable when running
6. Shoulder Holster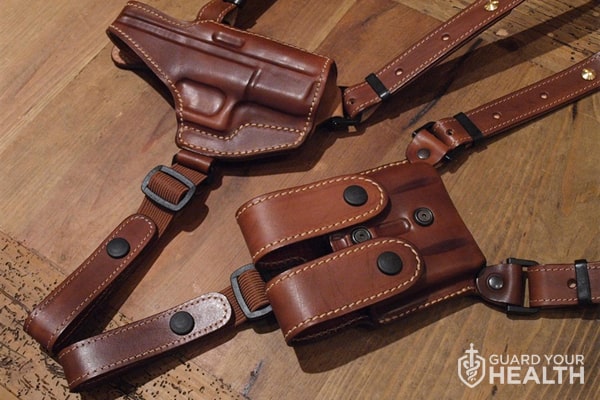 The shoulder holster can be wrapped on your shoulder and upper back with support straps. The actual gun shield is put under the harness band on the left or right side of your rib cage.
This product has made numerous appearances in famous Hollywood movies. It possesses a classy and charismatic design that levels up the beauty of your outfit.
Shoulder holsters are suitable for carrying heavy and big firearms which cannot fit on your belt or waistband. You should wear an outer jacket to conceal the large-size guns on your back.
A great advantage of this product is its high comfort, especially when you change the body postures from sitting to standing. However, it takes a lot of practice to draw the firearm fast from shoulder holsters.
PROS
CONS

Has room for additional accessories (bullet supplies, magazines).
Suitable for large handguns.
Suitable for various body postures.
High comfort with little extra weight on the waistline.
Classy appearance.

Need to wear an outer jacket or coat.
Require skills and practice to draw the firearm.
7. Inside-The-Waistband Holster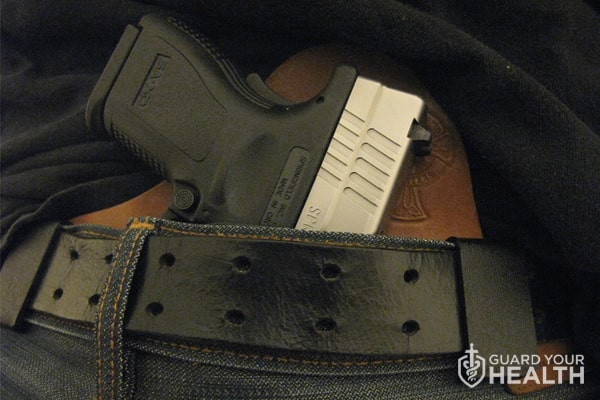 ITW Holster is one of the best concealment gun shields on the market. This product is designed specifically for small guns, which you can hide inside your waistband with an attaching clip.
You can carry the ITW holster on your hip, next to the appendix, or at the small of your back. The ITW holster can hold your firearm stably due to its two contact points with the belt and one on your torso.
However, this feature can cause skin burn or print on your hip if the gun barrels get hot after shooting. In circumstances when you have to draw and shoot in an instant, the low accessibility of ITW holsters is a major disadvantage.
Another drawback of the ITW holster is the uncomfort it brings when you sit or drive. It would be best if you opted for ITW holsters with a neoprene back-pad to reduce the weight pressure of the firearm on your hip.
Storing a gun inside your pants makes it feel tighter because most of our clothes are designed to fit perfectly to your hip.
PROS
CONS

Effective concealment.
Very easy to remove.

Uncomfort.
Low accessibility.
Require larger-size wearing pants.
8. Bra Holster
As its name suggests, the bra holster is only applicable to women. This gun shield holds your firearm with a single strap attached to the middle of the bra.
You can only hide small-sized guns and pistols inside your shirt, across your chest in a facedown position. Accessibility is an advantage of bra gun carry as you can draw the weapon with ease by reaching up to your shirt.
This product is suitable for women who want to protect themselves against unexpected threats at night. However, carrying a bra holster is quite uncomfortable as it can press against your chest.
PROS
CONS

High accessibility
Concealment
Brings a sense of security

Uncomfort
Visible through shirts.
9. Ankle Holster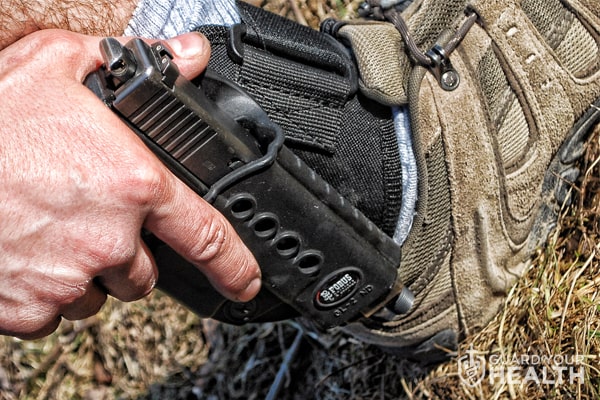 Ankle gun shield is usually worn around the ankle of your nondominant leg. This device is commonly used by police officers who want to carry a backup firearm.
Ankle carry is a perfect match for people who spend most of their time sitting or driving. You can draw the firearm much faster from ankle carry compared to the other common products like belts or shoulder holsters.
The drawing technique is also very cool and easy. You just have to raise your nondominant leg or bend down to reach the gun with your dominant hand.
However, it may hurt your ankle or hinder your movements when running or jogging with an ankle carry. Your legs need time to adapt to the weight and pressure generated by the ankle gun shield.
Ankle holsters have an adequate concealing capacity as people won't pay much attention to your legs. Yet, it is advisable to wear long pants to hide the gun.
PROS
CONS

High accessibility when sitting.
Suitable for small and backup guns.
Convenient for seated positions.

Need to wear long pants with loose leg cuts.
Uncomfortable for running
10. Pocket Holster
Pocket carry is simply a gun shield placed inside your pants or pockets to hold the firearm. You will need a pocket holster when attending places with weapon restrictions.
Removing your weapon from the belt, ankle or shoulder is time-consuming and painful. Meanwhile, you just have to reach inside your pocket and take out the gun with the pocket carry.
This product's main strengths are convenience and high accessibility. Just a small pistol gun can one day save your life.
However, you need to be extremely careful when drawing the gun from your pocket. Just a small mistake can discharge the weapon and damage your leg.
PROS
CONS

No need for belts
Great comfort

Unsuitable for sitting
Can carry only small guns
So we have covered the types of holsters and helped you understand each product's strengths and weaknesses. You should choose the holster suitable for your specific needs and profession. Thank you for reading!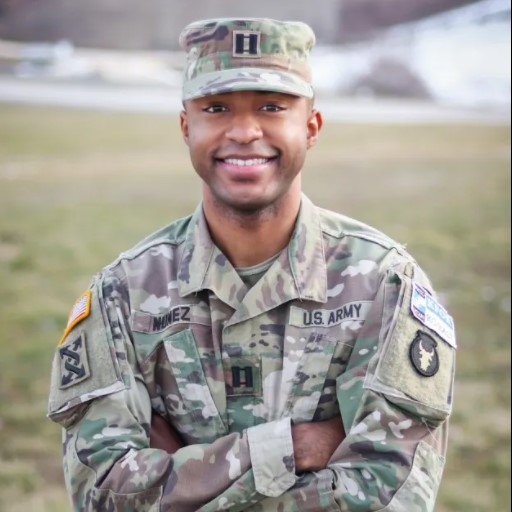 The 16th Sergeant Major of the Army, Sgt. Maj Christian Smelling was sworn in on August 11th 2009 and has held every enlisted leadership position ranging from cannon crew member to command sergent major