Military medals are a physical embodiment of the wearer's bravery and accomplishments. They should be treated with the utmost respect and displayed in a way that honors their sacrifice. A shadow box is a perfect way to do this. It allows you to create a custom display that can be hung on the wall or placed on a shelf. Here are some tips for how to display military medals in a shadow box.
How to Display Military Medals in a Shadow Box – Military Shadow Box 101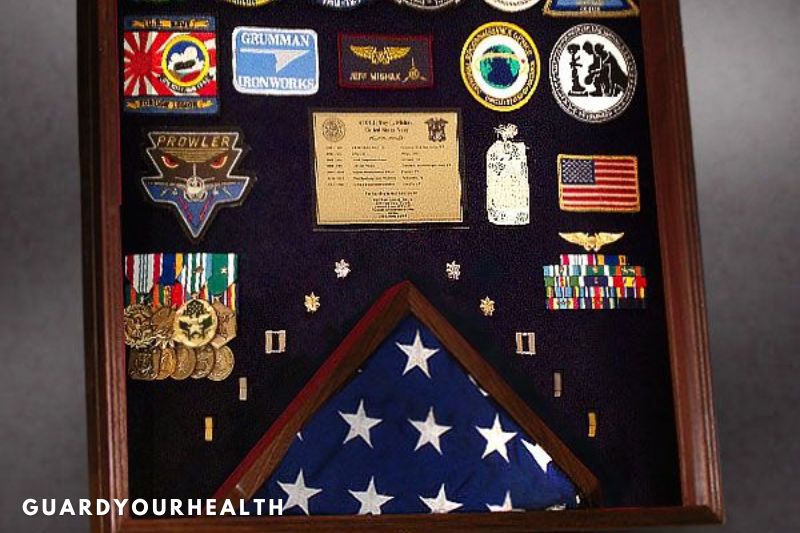 There are three key procedures for properly displaying military medals:
Arranging
Mounting
Hanging
Step 1: Arranging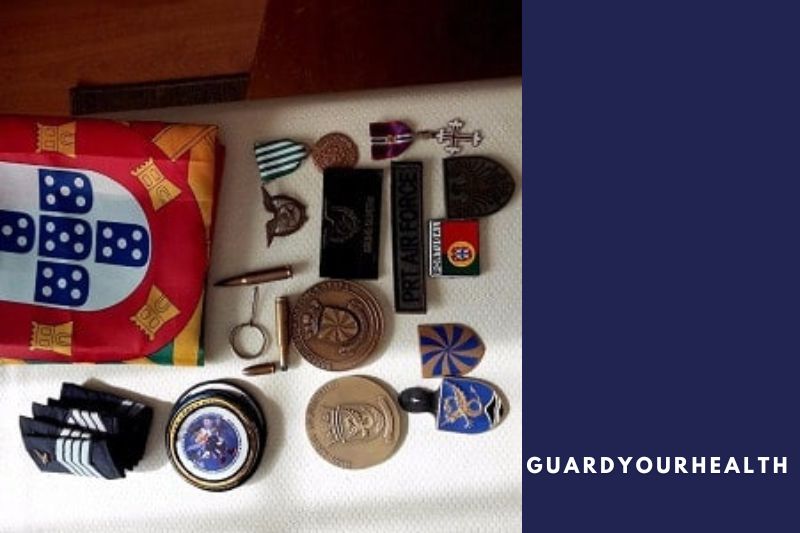 Gather anything you want to place in the military shadow box before you start organizing. There are no hard and fast rules for this. However, you will likely have badges, medals, insignia, and diplomas. Inside, you may also save uniforms and images.
Check your tokens against official records as you collect them. You don't want to forget about a few medals! This military shadow box will illuminate your military tale, so make sure it is comprehensive.
You may organize your military tokens in a variety of ways. Our advice is to start by categorizing what you have. Then, sort them by date among the various kinds. After that, arrange them in order of precedence or rank.
This phase is critical if you want to demonstrate your achievements completely. You don't want your display to be disorganized. It should be simple to understand, particularly if you wish to show it off to others who are unfamiliar with military honors.
Your first objective is to have a well-thought-out framework. Your military shadow box, like the amazing organization in the military, should be structured rationally. This will also ensure that it does not become an eyesore.
To help you organize, trim the prepared piece of paper to the proportions of the interior of your military shadow box. This will be a template platform to determine where you will place the tokens.
To envisage, create an outline on the paper with a marker or arrange the tokens straight on the page. We recommend using the latter route since seeing it visually will be quite beneficial. For example, you may decide that you wish to alter your ordering procedure.
We also propose you try out a few alternative configurations and photograph each one. So, in the end, you may compare them all and choose your favorite. Trust us, doing it this way will save you more time and work.
If you're having trouble narrowing it down and choosing the best, talk it over with a non-service friend or family member. You will get useful insights, especially regarding comprehensiveness and beauty since awareness of military details will not impact them.
Another thing to remember is to be precise with your spacing. Even though something seems little, it will significantly impact your ultimate output. It may even be the difference between a swoon-worthy military shadow box and a shoddy one that doesn't belong on the military medal wall display.
The spacing should be constant throughout and appropriate to the size of the whole box. That is to say:
The top, bottom, and both sides of the box should all have the same amount of space.
Each of your medals should have the same amount of space between them.
Proceed to the following stage after you've established your military token setup.
Step 2: Mounting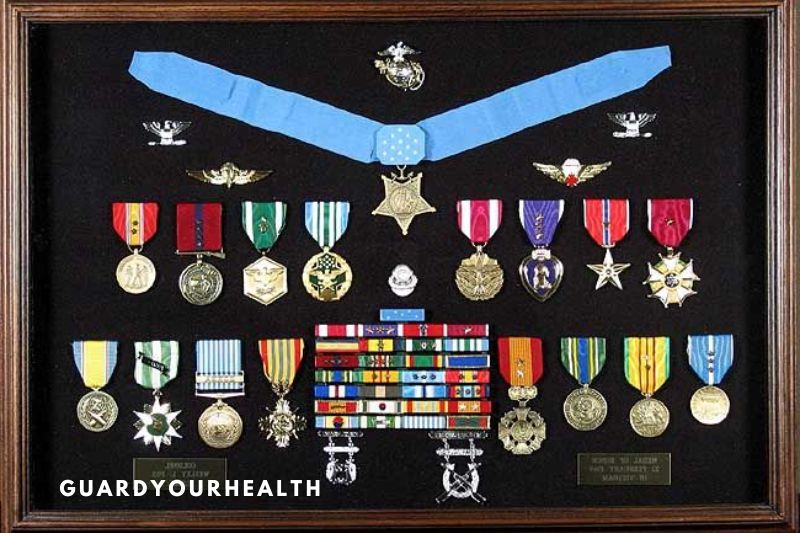 This section contains methods for how to mount medals in a shadow box. Prepare the following:
Hook and loop fasteners with sticky backs are preferable. If you have many medals to display, buying a full roll is the most cost-effective option.
You'll need to use a glue gun if you can't find fasteners with sticky backs.
Scissors – These will be used to cut the fasteners to the proper size. A sharp and long-lasting pair will make your life simpler.
Tissues – For wiping away extra glue or residue from your hands after using a glue gun.
Start with one medal. Turn it over so that the bottom is facing up. Replace the hoop and loop fastener with adhesives on the medal's flat surface. Check that the fastening covers the full length but does not protrude from the medal.
Then, trim the fastener to the desired length using scissors. To adhere attached to the medal:
Peel the adhesive back of the fasten.
If your fasteners do not have sticky backs, adhere to them using a glue gun.
Remember to warm the gun by connecting it and leaving it for 3 to 4 minutes.
Be cautious not to injure yourself while using the glue gun. Also, carefully push the trigger of the pistol to prevent too much glue from overflowing and ruining your medal. If you use a glue gun, have some tissues on hand to dab away excess or clean your hands as required.
Repeat these processes for all the medals, removing the adhesive backs or using a glue gun.
Step 3: Hanging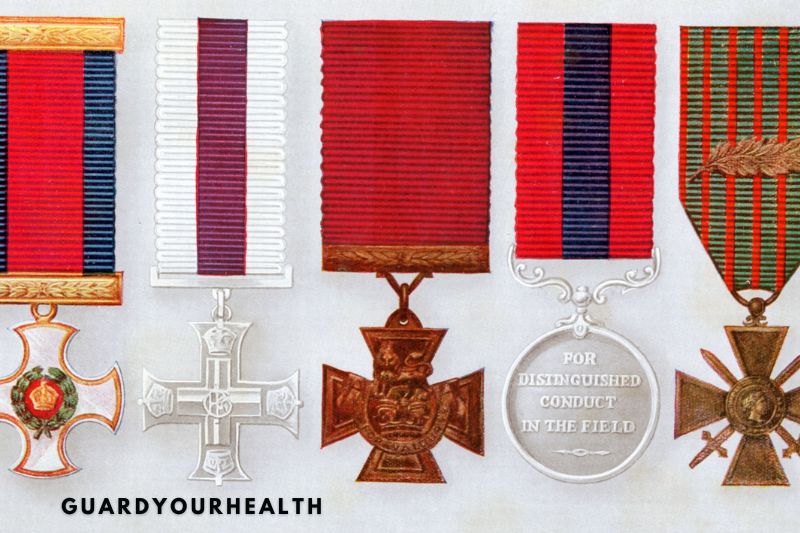 In the last phase, you will hang medals in the shadow box.
Ruler – To carefully measure out your designed pattern and position your medals.
Using a ruler, arrange your medals with fasteners connected in the order/layout you previously chose. Check that your medals are lined up correctly and that the spacing is constant.
To finish, peel the remaining side of the fasteners and adhere them to the board panel of the military box. You should now have a wonderfully arranged collection of military mementos!
Check watch this video for some pointers:
How Can You Put Uniforms In A Shadow Box?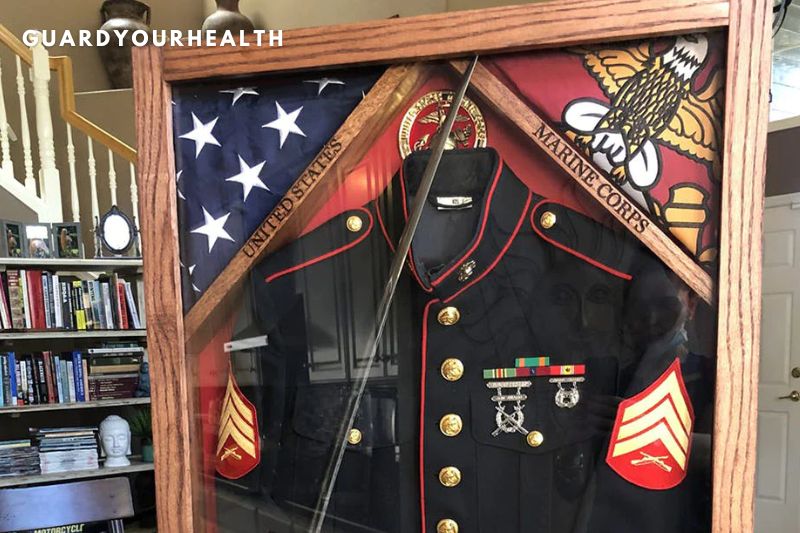 Step 1
Purchase a shadowbox frame big enough to contain the service member's jacket and other accompanying baubles. The felt or velvet lining should match the service member's branch of the military, but it is not compulsory. The color for the Army is black; the Navy, Air Force and Coast Guard are blue; and the Marine Corps is red. If you have a funeral flag you would like to incorporate in this scenario, there are shadowboxes that offer a location for the flag. You can also purchase a flag box separately to attach to the main shadowbox.
Step 2
Display the branch symbol at the top of the shadowbox in the center.
Step 3
Attach the uniform jacket—which should be nicely pressed—to the lining with rust-resistant pins. You will need to use a considerable amount of pins to hold the weight of the jacket.
Step 4
Lay down the ribbons, badges, medals and rank pins on the uniform as if the service member were wearing it. There are precise criteria outlining how the uniform should be laid out. You can do this before attaching the box jacket. Each branch has separate jacket-making guidelines.
Step 5
Use rust-resistant pins to attach dog tags to the uniform jacket's liner.
Step 6
Order a plate with the service member's name, branch, and last rank.
FAQs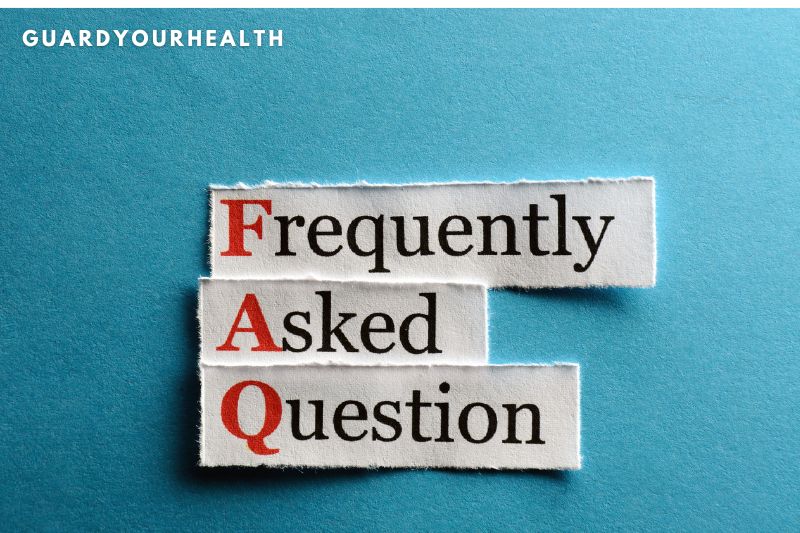 What is the proper way to display military medals?
The highest accolades should be shown top left in order of precedence, according to common practice for presenting medals. It's also good to group medals from the same category together. For instance, all the stars, with the highest ranking at the top left, followed by patches, pins, and ribbons.
How do you showcase medals?
Use a shadow box to store all of your medals together. Because it's easy to add a new medal to the collection, I utilized a top-loading shadow box. The idea for medal storage/display! Use a shadow box for medals to display together.
What is the best glue to use on seashells?
Seashell Glue is ideal for creating and decorating with seashells. This adhesive is ideal for attaching any shell to various surfaces, including wood, terra cotta, glass, cardboard, metal, and more!
Conclusion
You can display military medals in a shadow box in a few different ways. You can either hang them on the walls or a shelf. If you choose how to hang medals, make sure you use Velcro strips so they do not fall off. You can also use magnets to hold the medals in place. If you place them on a shelf, you can use a simple frame to hold them up.
You can access our website Guardyourhealth.com to learn more. Thank you for taking the time to read