If you're looking for a new ear protection set, you may wonder what the difference is between the Peltor Sport Rangeguard vs Tactical 100 vs 300. Both are great options, but there are some key differences to consider. 
The Peltor Sport Rangeguard is designed for shooting sports, while the Tactical 100 is designed for military and law enforcement. Here's a closer look at the two models to help you decide which is right for you.
Peltor Sport Rangeguard Vs Tactical 100 vs 300
Peltor Rangeguard Vs Tactical 100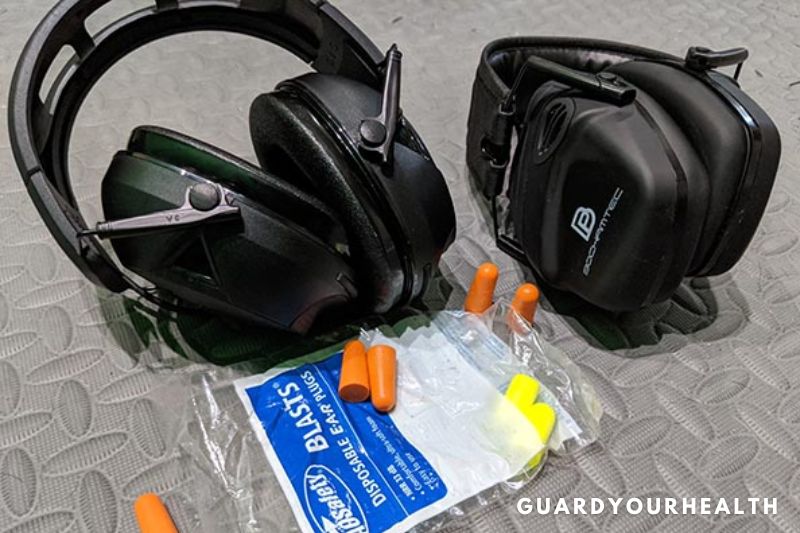 Peltor Tactical 100 Review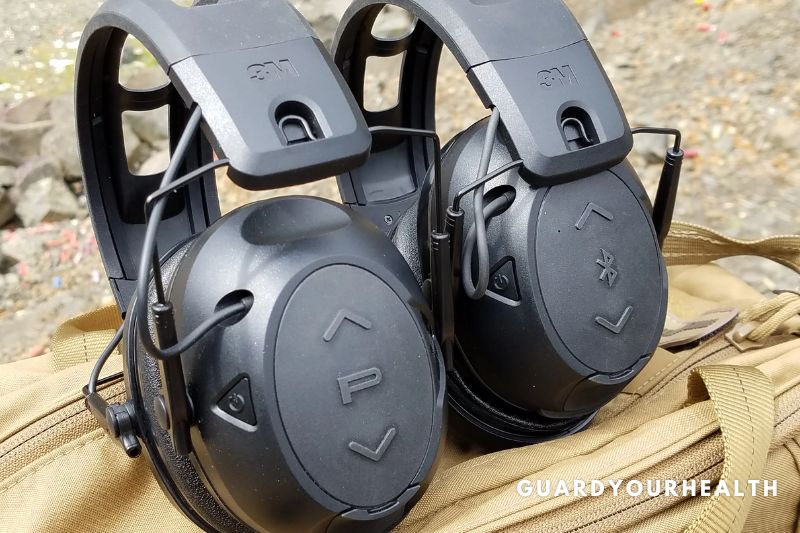 The Peltor Tac 100 has more sophisticated features than the Rangeguard, such as a Variable Suppression Time to reduce echoes inside. This device employs Adaptive Frequency Response technology to filter background noise, allowing a better understanding of instructions and conversations.
The Tactical 100, like the Rangeguard, has recessed microphones and a low-profile cup.
The Rangeguard is analog, but the Tactical 100 is digital, which makes it more trustworthy. The NRR is 22, somewhat higher than the Rangeguard, and better protects your hearing from gunshot noises. More importantly, the adjustable headband has more cushioning for a more comfortable fit.
The Tactical 100 does not feel heavy at all. Therefore you won't get any neck issues. It does not press the skull. Thus there is no ear discomfort or headache. The reaction time seems faster, making this model superb at range.
The Tactical 100, on the other hand, is significantly more expensive than the Rangeguard.
Pros
Has a quicker reaction time
Reduce echoes inside using the Variable Suppression Time.
Filters out background noise for better conversation and hearing.
Built with high-quality concealed microphones and low-profile cups
Better hearing protection and more dependable digital electronics
Extra padding has been added for added comfort; no discomfort when wearing
Cons
With low-profile cups and digital circuitry, the Tactical 100 is outstanding active hearing protection. For indoor/outdoor shooters, this model has more sophisticated capabilities such as Variable Suppression Time and Adaptive Frequency Response.
Peltor Rangeguard Review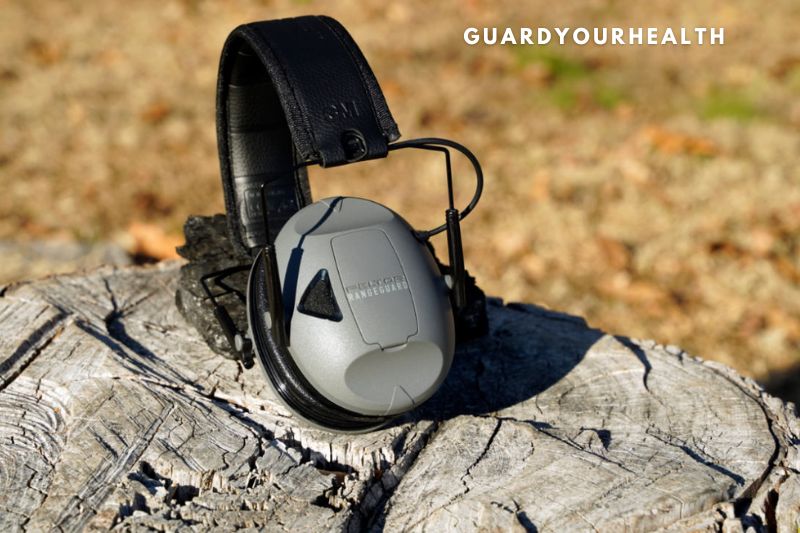 Rangeguard is active hearing protection with low-profile cups designed specifically for rifles and shotguns. This entry-level hearing protector can reduce gunshot sounds and increase speech volume for clear communication and situational awareness.
Fortunately, the microphones are recessed, so wind noise is reduced, and damage is avoided. The Rangeguard offers adequate hearing protection with an NRR of 21. I believe its exterior protection is enough.
Because these headphones are collapsible, they are simple to store. Furthermore, the headband may be adjusted to make you the most comfortable fit. The ear cushions are comfortable, so your ears won't hurt after a long day of usage.
However, your hearing may be affected if you wear these headphones for indoor shooting with a high-caliber pistol. The noise-canceling function also seems to be sluggish to respond.
Pros
They are specially designed for shotguns and rifles.
People's voices are amplified for effective communication and situational awareness.
The recessed microphone design protects the microphone and reduces wind noise.
Provides effective hearing protection, particularly when used outside.
Because of its folding shape, it is simple to store.
The adjustable headband and plush ear cushions provide a comfortable fit.
Cons
Indoors, hearing protection may be inadequate.
The noise-canceling function is slow to respond.
The 3M Peltor Rangeguard is a fantastic entry-level active hearing protection for petite adults and women. The low-profile cups' unique cuts make these headphones perfect for usage with shotguns and rifles.
How Does Peltor Rangeguard Compare With Tactical 100?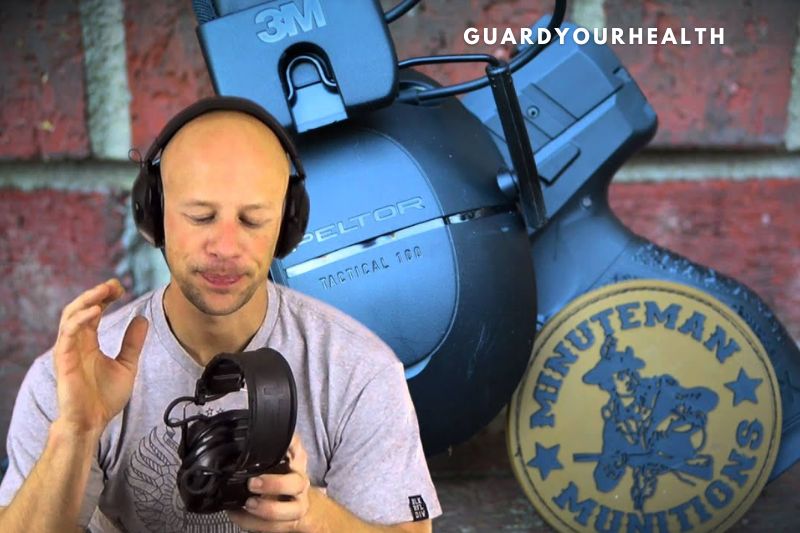 Peltor Rangeguard and Tactical 100 are two hearing protection devices that provide excellent value for money. Both have advantages and disadvantages, but which is the better investment? The answer is dependent on your specific situation.
1. Noise Reduction Rating (NRR)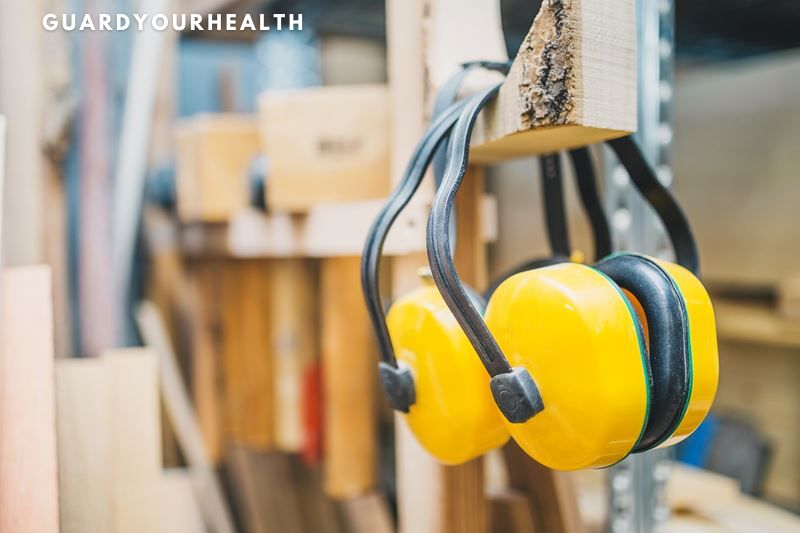 The NRR is the sole technique to determine the efficacy of hearing protection. This grade indicates how successful the item is in lowering noise levels. The higher the NRR score, the more effective the noise reduction and hearing protection.
Decibels are used to rate noise-canceling headphones (dB). Earmuffs may be adjusted to a maximum of 31, which is suggested for indoor shooting.
In this instance, Tactical 100 has an NRR of 22, while Rangeguard has an NRR of 21. According to the data, Peltor sport tactical 100 electronic hearing protector provides greater hearing protection than Rangeguard.
The issue now is whether 22 NRR is suitable for shooting. Essentially, it is determined by your rifle. The frequency with which you attend the shooting range and the weaponry used by other shooters are other crucial aspects to consider.
A 22 NRR rating is sufficient if you use a pistol comparable to the Glock and S&W. To maximize noise protection, use an earplug in conjunction with the earmuff. Because you need to hear your teacher on an indoor shooting range, this twofold protection method is only viable for outside shooting.
Tactical 100 has a tiny advantage over Rangeguard due to its higher NRR score.
2. Comfort
The excellent degree of comfort provided by Peltor hearing protectors is one of its distinguishing qualities. The ear cushions on the Rangeguard and Tactical 100 are also soft. Because their headbands are adjustable, they both guarantee a secure fit.
While both are quite comfortable, the Tactical 100 is somewhat superior since it has more cushioning for a snug fit. The cushioning does not press the head. Thus there are no headaches after extended periods of usage.
The Rangeguard weighs somewhat less than the Tactical 100. Rangeguard weighs around 11 ounces, whereas Tactical 100 weighs approximately 15 ounces. Neither weight strains the neck when utilized over a lengthy period.
Finally, because of the additional padding, Tactical 100 has a tiny edge over Rangeguard in terms of comfort.
3. Noise Filtering And Gunshot Suppression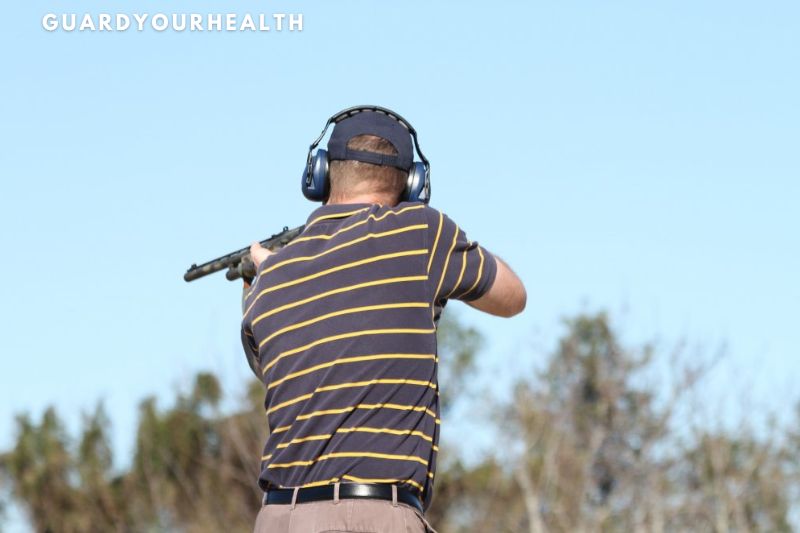 The Peltor Tactical sport 100 seems more dynamic than the Rangeguard because it has an adaptive frequency response that reduces background noise for more audible conversation and instruction listening. The filters surrounding the voice band are adjusted in this noise-filtering technology to reduce low- and high-frequency noise.
Because of its Variable Suppression Time, the model above is also good at reducing echoes indoors. This option enables you to adjust the suppression time and loudness from long to short.
The Peltor Rangeguard, on the other hand, has fixed noise filtering technology and gunshot suppression.
Consequently, I can state that the Tactical 100 performs better in noise filtering and gunshot sound suppression.
Peltor Tactical 100 Vs 300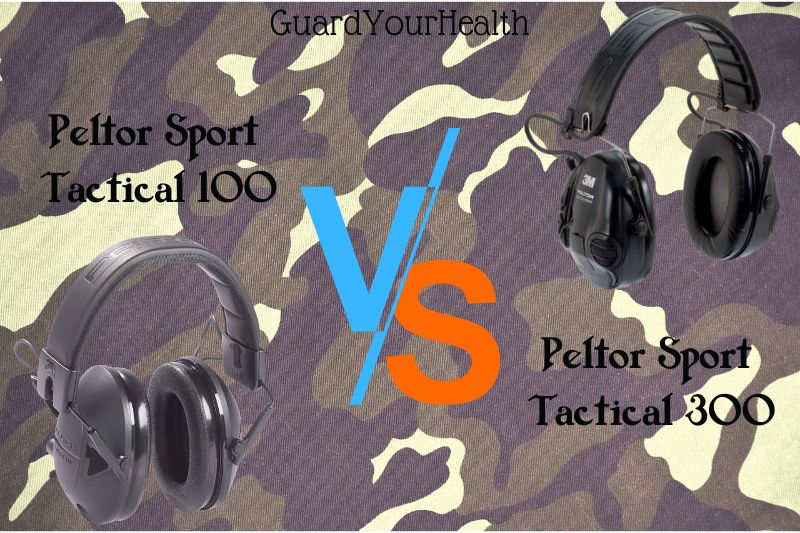 A Comparison Table
| | | |
| --- | --- | --- |
| | Peltor Tactical 100 | Peltor Tactical 300 |
| NRR | 22 dB | 24 dB |
| Electronics | Digital | Digital |
| Cup Profile | Low-profile | Medium-profile with cut-outs |
| Headband Features | Foldable | Foldable, hat/cap compatible |
| Controls | Knobs | Tactile switches |
| Noise Filtering | Adaptive Frequency Response | Clear Voice Tracking |
| Gunshot Suppression | Variable Suppression Time | Dynamic Suppression Time |
| Extra Features | 2-hour auto shut-off, low-battery warning, audio input limiter | Voice assist, 2/4 hour programmable, safe volume control technology, audio input limiter, low-battery warning |
Key Differences
Noise Reduction Rating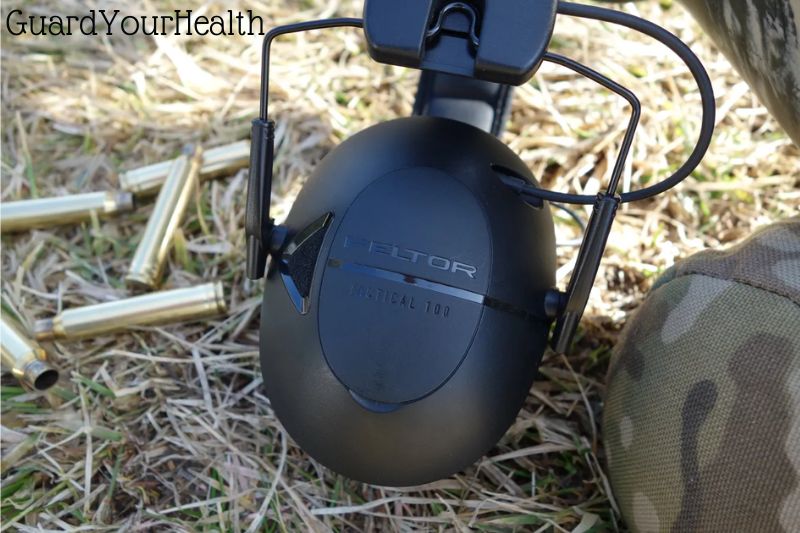 The NRR can be used to more precisely assess how well hearing protection shields your ears from the noise. The decibel is the unit of measurement used in this rating system. When using these hearing protectors in a noisy setting, it aims to evaluate the actual sound protection provided. Better hearing protection is often associated with higher NRR.
The Peltor Tactical 300 delivers a greater NRR than the Peltor Tactical 100. The NRR for Tactical 300 is 24 dB, while the NRR for Tactical 100 is 22 dB. Tactical 300 can shoot effectively in both indoor and outdoor shooting conditions for up to 45 calibers at this rate.
Designed Cups
The low-profile cup shape of the Tactical 100 improves side visibility. The medium-profile cup on the Tactical 300 appears to be larger than the 100 variants. The 300 models may accommodate rifles and shotguns with unique cutouts, increasing their adaptability.
External battery doors with a tether are available on the Tactical 100 and 300 for simple access. The Tactical 300, however, has rubber bumpers on the bottom of the cup for a more snug fit.
Features And Controls For Headbands
Both of these models' headbands are foldable, making it simple and compact to put them inside the bag. Because of the 300's vents, this model is still cozy when you're wearing a hat or cap.
The Tactical 100 employs knobs, whereas the Tactical 300 uses tactile switches for controls. This indicates that the 300 offers a simpler control approach because functioning simply requires a touch of the controls. Additionally, the controls are big, making it simple to adjust the volume.
Acoustics/Attenuation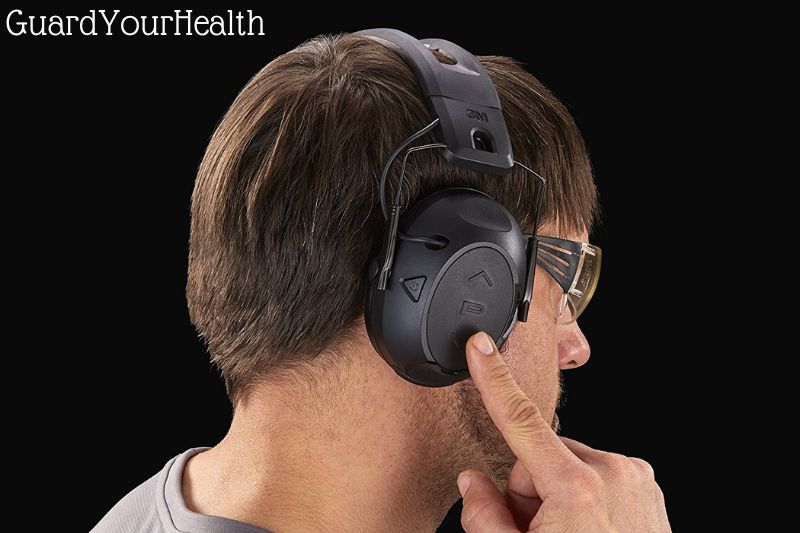 Noise-cancelling headphones have the capacity to attenuate or reduce undesirable background noise. Recessed microphones for the Tactical 100 and 300 help to reduce wind noise. They employ cutting-edge level-dependent technology to safeguard your hearing in noisy areas and let you become aware of your surroundings in quiet ones.
The Tactical 300 offers dual ALC loops for microphones for a clear output, making it significantly superior to the 100.
The 300 employs Clear Voice Tracking, which recognizes sounds around you and boosts noise filtration as necessary while maintaining voices for a more audible dialogue. The 100 uses Adaptive Frequency Response to filter the noise.
The Adaptive Frequency Response modifies the filters surrounding the voice band to remove high- and low-frequency noise.
The 300 model employs Dynamic Suppression Time, which automatically modifies suppression time for better communication and comfort regarding bullet suppression. The Tactical 100 employs Variable Suppression Time, which enables volume and suppression to be adjusted simultaneously.
Special Features
Similar extra features, such as a low-battery alert and an audio input limiter, are shared by the Tactical 100 and 300. Both contain an automatic shut-off feature. However, the 100 has a two-hour time limit, while the 300 has a programmable option to select between two and four hours.
Because it has Safe Volume Control Technology to keep the audio dose within reasonable bounds, the 300 is better than the 100 models.
Which One Should You Choose?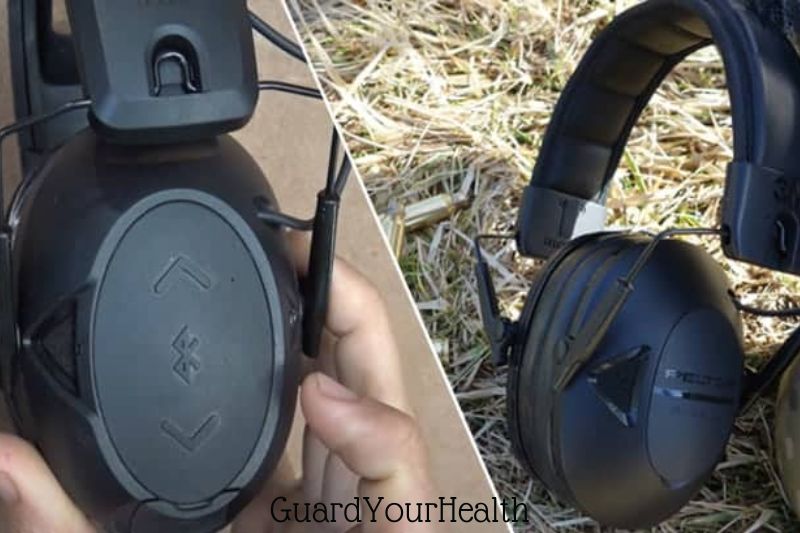 There are key differences between the Peltor Sport Tactical 100 and 300 models. The 100 is designed for shooters who need hearing protection from muzzle blasts and other loud noises, while the 300 is designed for tactical military and law enforcement applications.
The 100 has a sleek, low-profile design that makes it comfortable to wear for long periods, and the 300 has a more robust build that can withstand the rigors of tactical operations.
Both models offer excellent hearing protection, but the 300 has additional features that make it better suited for tactical applications.
FAQs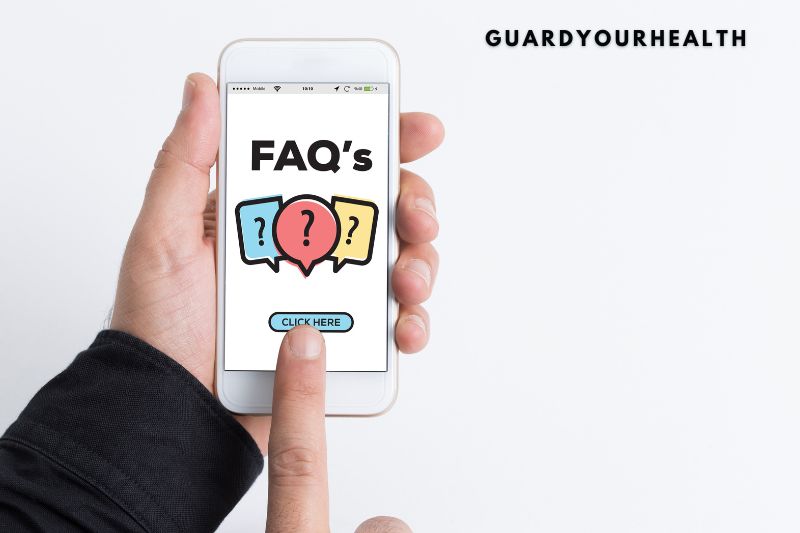 1. How do you charge a peltor sport tactical 500?
Charging Battery for Peltor Sport Tactical 300/500
Insert the micro-USB connector cable into the micro-USB jack. Connect the other end of the cable to a USB power source to begin charging. The LED will blink when the battery pack is charging and turn solid when charging is complete.
2. How long does the 3M Worktunes battery last?
3M™ WorkTunes™ Connect Hearing Protector with Bluetooth® Technology, which is rechargeable and lasts 30 hours. The other two versions, which require two AA batteries (sold separately), will last approximately 50 hours.
3. How does peltor work?
Peltor™ Sport RangeGuard™ Electronic Hearing Protector suppresses gunshot noise to protect hearing while amplifying voices for clear communication. Ideal for range and hunting use. Noise reduction rating (NRR) equal to 21 decibels. Low profile cup design works with shotguns & rifles.
Conclusion
In conclusion, the Peltor Sport Rangeguard is better than the Tactical 100. The Peltor Sport Rangeguard is more comfortable to wear, has better sound quality, and is more durable. Thanks for reading!