There are different kinds of hunters: Those who stalk the game in the woods.
Those who wait at a single spot and for their prey.
And those that make the difficult journey in harsh terrain to find some game.
All types of hunters need a comfortable and light pair of hunting boots to successfully handle the terrain.
Hunting boots are the most important piece of hunting gear. Unlike other accessories, you cannot put them aside in the middle of your pursuit. The boots will constantly be on your feet, that is why you should choose wisely.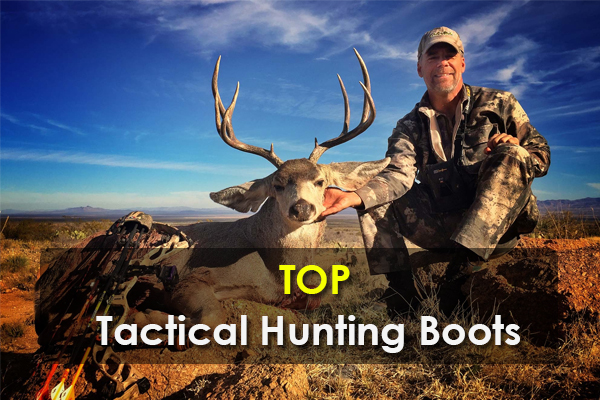 The Technology of Hunting Boots
Just like athletics, hunting footwear is highly specialized. The components of a hunting boot can be broken down into:
Uppers
Weight
Height
Insulation
Shanks
Footbed
Soles
Lining & Padding
Uppers
Uppers are the materials that literally make up the upper section of the boot. For hunting footwear, the upper fabric should be waterproof and ventilated.
The material should also be strong enough to provide protection and support to the feet throughout the long hunting treks, as hunting terrains tend to be harsh.
Weight
The overall weight of the boot is an important consideration for hunters who walk long miles to locate their trophy.
The weight of the boots should be decent, but not too heavy that you quickly feel tired.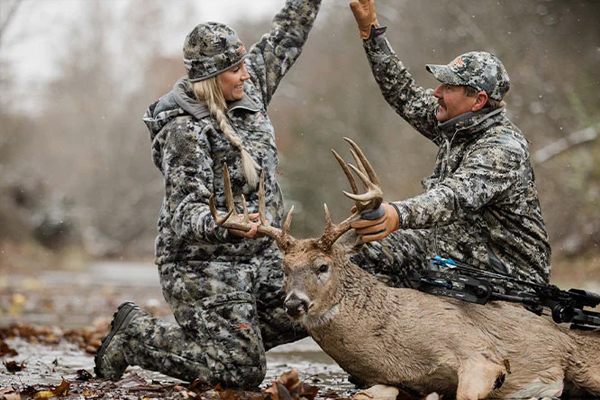 Height
Some boots will go up the ankle and others will cover up to the knee. Taller boots are generally intended for wading through water whereas shorter boots are for hiking and similar activities.
Insulation
All hunting shoes have some level of insulation. The degree of insulation the shoe offers is usually stated in grams.
Grams of insulation per square meter of fabric is extremely important when you are shopping for boots.
Shanks
Shanks are invisible to the eye, but they play an integral role of giving shape and providing support to the boot.
Shanks are the metal, fiberglass, Kevlar, nylon, or plastic plates placed inside the soles of a boot.
The length of a shank determines the stiffness of the boot. The longer the shank, the stiffer the boot is.
Footbed
In the hunting game, insoles are called footbeds. This is the part that the bottom of your feet make contact with once they are inserted into your boots.
Footbeds are made to be comfortable, breathable, anti-bacterial, and above all, durable.
Lining and Padding
These two components make up the interior of the boots, filling out the sides with soft cushioning.
Lining and pads perform various functions such as insulation, waterproofing, and comfortability.
Soles
Soles are located at the exterior and bottom of the boots. Soles on boots meant for hunting are made out of tough material that provides maximum traction to prevent slipping,
Soles also protect the feet from the direct shock of impact by redistributing it. The environment you hunt in will dictate the kind sole your boot has.
Understanding these terms and their roles will help you make an informed decision when you are choosing from the multitude of options available.
The following reviews of the different types of boots will further simplify the hopping process for you.
Top 10 Best Tactical Hunting Boots Reviews
Because of a plethora of options on the market, choosing the best men's hunting boots is an uphill task. The following two boots are our best picks out of the bunch.
1. Guide Gear Giant Timber II Men's Waterproof Hunting Boots
What grabbed our attention about this pair is their insulation system. Consequently, they are the best boots for cold hunting months.
These are the best boots for a winter hunter to own. The Giant Timber II keeps feet safe and warm in extreme temperatures of up to -58°F.
This level of insulation is the best that your money can buy, and you never have to worry about frostbite.
The insulation is 1400 grams which will certainly make your feet sweat in warmer months. However, the inner lining is covered by wicking mesh to mitigate the sweat and to provide ventilation.
Product Features
Insulation level – 1400 grams of Thinsulate Ultra Insulation technology.
Shank material – Steel
Upper fabrics – 900D Nylon and weatherproof suede leather
Footbed – Permanent EVA insole with a mesh lining
Lining – The mesh lining has wicking properties and the shoe tongue is padded
Sole- Rubberized and oil-resistant for maximum traction
Height- The boot goes up 14 Inches
Weight – 2.25 lb.
Boot sizes available – 8.5-14 in medium and wide fit
Pros
ScentMask technology fabric wicks away sweat from feet
The insole is padded with HydroGuard membrane, this layer of fabric is waterproof but breathable
Padded tongue protects the shin from chafing (a padded collar has the same function)
Cons
If you live and hunt in areas with freezing temperatures, we can't stress enough how these boots should be an integral part of your hunting gear.
2. Irish Setter Men's Deer Tracker 10" Hunting Boot
Are you the kind of hunter who prefers to stalk the trail of your prey over several miles? Irish Setter's Deer Tracker boots are the best men's hunting boots for hiking in the market right now.
The boots are light enough to allow you to trail after your game over a variety of terrains.
Irish Setter Men's trackers provide warmth, comfort, dry feet, and sturdy support on those long treks.
These boots have exceptional arch support and are lightweight despite the amount of support it offers.
Despite the fact that Irish Setter boots come with only 400 g insulation, they offer warmth. The heat retention is sufficient throughout the first weeks of winter.
Product Features
Insulation level – 400 g of PrimaLoft® Gold Eco insulation
Upper – Full-grain waterproof leather
Lining- Nylon with wicking properties
Footbed – Padding is made of removable PU padding
Shank – Non-metallized
Sole – The sole is made of composite lightweight materials using the company's unique RPM technology
Available sizes: 4- 14 in medium/ wide fit
Height – 10 inches
Weight – 3 lb.
Pros
The weatherproofing of this boot is reinforced by the UltraDry™ technology, this technique keeps the feet dry by using a wicking inner lining together with a waterproof upper
The incorporation of the ScentBan technology suppresses any odor emanating from the insoles
The fabric kills bacteria that are responsible for smelly feet
The camouflage pattern of this boot mimics the natural settings to easily blend in
You can wear this boot to work on a cold or wet day
The sole is durable and comfortable on the feet
Cons
Not suitable for extremely cold temperatures
The Irish Setter Deer tracker is one of the most versatile hunting boots for men that we have come across.
3. Muck Boot Muck Woody PK – Women's Hunting Boots
The Woody PK boots were intentionally designed to fit lady hunters and accommodate the mechanics of their movements.
The boots are easy to wear: just pull them on and go. These boots provide full waterproof protection for the hunter's feet.
Just like the masculine-looking men's hunting boot, women's hunting boots look feminine.
Muck Woody PK are ideal companions during both cold and warm hunting months. When your feet sweat, the wicking inner lining absorbs perspiration to keep your feet warm.
Product Specification
Upper – It is made of 100% Waterproof rubber
Insulation – The warmth of the boots is provided by a 4 mm neoprene layer. This insulation will be comfortable under temperature zones of between 25- and 65-degrees Fahrenheit.
Lining – PK mesh wicking lining
Sole – The EVA midsole absorbs the impact of rough terrain and the outsole is molded and MS2 bobbed. The outsole provides maximum grip on uneven terrain
Height – 14 Inches
Circumference – The shaft is 17" round
Comes in size 5-11 true to size fit
Pros
The design of the boot prioritizes comfort and durability
The rubber components guarantee 100% waterproofing
You can use these boots for garden or farm work when you are not hunting
These boots are easy to wear to simply pulling them on
Cons
Bright pink colors may alert prey
Muck Woody PK women's hunting boots are multi-purpose footwear, which is why it is so popular.
However, on the flip side, they are not suited for long-distance trekking due to the absence of laces. The insulation is minimal so keep that in mind if you are a cold season hunter.
4. LaCrosse Women's Alphaburly Pro Realtree APG Hunting Boot
We picked LaCrosse Alphaburly Pro because of the flexibility and support around the calf. The LaCrosse is very comfortable to walk in for a rubber hunting boot.
A removable neoprene gusset is sewn onto the boot for easy wear and removal. The gusset also ensures that the boot fits the average foot and leg comfortably.
The entire boot is made of scent-free rubber. That is another bonus because the stench of rubber is repugnant to most people.
Product Specifications
Upper – Made of scent-free hand-laid high-quality rubber upon a neoprene core of 3.5 mm
Insulation – Uninsulated but manufacturer claims comfort in 0 to 70 degrees Fahrenheit weather
Footbed – Removable EVA padding
Lining – Perforated neoprene liner for better ventilation and moisture-wicking properties
Shank – Made of nylon
Sole – Synthetic rubber with a tread pattern that facilitates movement across demanding terrains such as mud and stones
Height – 15 inches
Weight – 4lbs
Sizes – 5-11 true to fit but buy a size or a half larger
Pros
Scent-free rubber ensures scent-free hunting on warmer months
Neoprene gusset ensures snuggle fit
100% waterproof
Cons
Not suitable for trekking
Not intended for extremely cold temperatures
We recommend the women's boots for hunting in the spring and fall only. This is because there is no insulation layer to keep your feet warm during winter.
5. Muck Boot Chore Classic – The Best Rubber Hunting Boots
The Muck Boot Chore Classic is the industry standard on insulated rubber multitasking boots.
The classic boot has a long shaft made of rubber or neoprene overcast by rubber.
The snug fit of this boot sets its paper from all other men's rubber hunting boots. A cuff at the tip of the shaft will ensure that it firmly wraps around your leg. This feature is important because it keeps water and filth from slipping in.
Muck boots keep the feet dry thanks to a wicking lining.
The biggest upside of all is that you will feel like you are earring regular field boots but with extra features. The pair is as weather-resistant as a pair of wader boots.
Product Features
Upper – Leather and synthetic material
Insulation – Neoprene lining, 5 mm (up to 65°F)
Lining – air mesh lining for ventilation throughout the whole boot to keep the feet dry
Shank – Stainless steel
Sole – Pure rubber with quadruple reinforcement for maximum protection
Height – 15.5 Inches
Shaft circumference – 17.8 Inches
Pros
100% Waterproof
Sealable at the end of the shaft to prevent knee-high water from trickling in
The durability of this boot is unmatched
Lightweight
Cons
Although you will pay a pretty penny for this pair of work boots, it offers tremendous value for money. You can use these boots for your farm chores as well as hunt in them.
6. Irish Setter Men's Vaprtrek LS Hunting Boot – Best Insulated Hunting Boots
Irish Setters hit the jackpot with the Vaprtrek's combination of high insulation capabilities while staying lightweight. This is the ultimate goal for all hunting boots.
The Vaprtrek is made for the hunter who wants to stalk their prey on land in frigid temperatures. Plenty has also gone into designing the boots' superior protection features.
Product Features
The Irish Setter Vaprtrek LS is constructed with rubberized foam to minimize weight
The athletic outsole is similar to the ones found in high-end hiking and tactical boots
The boot comes with a massive 1200 grams of insulation, which makes it the ideal choice for prolonged exposure in cold weather
Lightweight at on 800 grams
Waterproofed for short immersions in water therefore not suitable for wading
Rubber sole
Upper is made of 80% ripstop nylon and synthetic
ScentBan technology kills odor-causing bacteria in the inner layer
Pros
The boots are very warm soft and dry
Designed for tracking game
Cons
Certain options and sizes are expensive
Not intended for warmer temperatures
The Vaprtrek is therefore optimized for stalking hunters, upland bird hunters, and predator hunters. With more than 1000 grams of insulation, this is a cold season only boot.
7. Guide Gear Monolithic Extreme Waterproof Insulated Boots – The Warmest Hunting Boots
Guide gear is among the few options available with tons of insulation to keep your feet warm.
These boots sport 2,400 grams of Thinsulate to trap in heat. Because of such large amounts of insulation, this boot is very bulky, which may be a turn off for hunters wanting something lightweight for long treks.
Product Features
Insulation – 2400 grams
Silver insole with heat reflective properties to reflect body heat
Frost barrier of 8 mm sandwiched between the insole and outsole
The upper consists of weatherproof leather, 900D Nylon, and a waterproof but breathable membrane
The sole is made of rubber lug with patterned treads for traction on ice as well as durability
The inside is thickly cushioned with an EVA midsole and a Polyurethane foam insole
Pros
The main role of this boot is to warm up your feet, and it accomplishes that
Waterproof
Cons
Not especially flexible
Not intended for warmer temperatures
Hunters in Canada, Alaska, and the northern US will find this pair appropriate for ice fishing. However, these boots are far too warm for hot temperatures.
8. Men's Haw'madillo Hiking Boot by Under Armour
The Haw'madillo boots are made for tackling soggy grounds and wading through swamps. If you need to spend long hours on your feet, you'll find that this pair is suitable.
The outsole has excellent tread that minimizes slippage even on muddy turf.
The boot shaft is 16 inches high so you can wade through the marsh standing in your way without getting soaked.
Product Specifications
Upper – Waterproof pure rubber
Insulation – This boot is not insulated
Footbed – Ergonomic Ortholite sock liner with a polyurethane base and a memory foam top.
Lining – moisture-wicking properties
Sole – High-traction synthetic sole made of high-abrasion and mud-resistant rubber
Shank – None
Height – 16 inches
Weight – 4 lbs
Sizes – 7 to 14
Pros
Best for hunters whose prey hide around the wet ground, these boots will keep you upright while protecting your feet.
Cons
Bright orange logo ruins subtlety
Given the fact that these boots are not insulated, they are better for warm weather hunting.
9. Muck Boots Arctic Sport (Tall) – Waterproof Hunting Boots
We chose the Muck Arctic sport boot for the best waterproof hunting boots because of thousands of glowing reviews from consumers.
Product Specifications
Insulation – fleece lining insulation and an extra 2 mm thermal foam beneath the footbed for additional warmth (-40°F to 40°F)
100% Waterproof
Sole – Built similar to tactical army boots to offer traction, support, and rigidity in icy conditions
The midsole is padded with EVA foam for comfort
The boot has a pull tab to easily wear and take off the boots
The entire boot is lined with 5 mm neoprene for extra comfort, heat retention, waterproofing, and shock absorption
The soft neoprene layer enhances the flexibility and contouring around the pressure points of the feet to prevent chafing and blisters
Steel toe to protect feet from forward and upward impacts
Shaft circumference – 17 inches
Height – 14.25 Inches
Pros
Suitable for rugged use
The boots are durable and comfortable
Muck Arctic Sport is versatile, use it for hunting as well as for cleaning livestock stalls
Warm enough for use in icy weather
Cons
Too warm for hot temperatures
Minimalist design may not appeal to some users
Muck Arctic boots are minimalist in design with only black color interrupted by a white inscription.
We recommend these boots for anyone who wants to keep dry feet under the wettest conditions. The only thing where they fall short is in long treks.
10. IRISH SETTER MEN'S 2874 VAPRTREK WATERPROOF 8 INCH BOOT
The ever-impressive Irish Setter Men's boots team designed the 2874 model to keep your feet dry even in the middle of a swamp. The Vaprtrek has given many a hunter the freedom to stay still and wait for their prey, regardless of the terrain.
Product Specifications
The upper is made of synthetic, durable and waterproof material
The inside lining uses Scent-free technology to suppress the growth of odor-causing bacteria
Breathable inner lining fabric with wicking properties to get rid of humidity inside the shoes
ArmaTec toe protection feature shields the toes in case you accidentally stub your toes on something
Height – 8 inches
Weight – 1.3 pounds
Pros
Offers a comfortable hunting experience in swampy areas
Odor-free due to bacteria-resistant inner lining
Wicking and waterproof inner linings
Lightweight to enable trailing for long-distance
Cons
If you are a country hunter who will choose synthetic over leather, these high-end boots are for you. Enjoy insulation, dryness, and traction in one lightweight package.
Conclusion
We have covered various types of boots suitable for the varied hunting ground conditions. Regardless of your hunting technique, our broad review has made sure that there is something for everyone.