Are you a law enforcement or police officer that works for extended hours on the watch? Or perhaps you are part of your neighborhood's watch or citizen's patrol group.
All these are jobs whereby having durable and comfortable footwear is of great importance. That is precisely why individuals involved in these tasks are advised to own the best tactical boots for police, and this article will help you to find exactly that.
Below is a list of 10 tactical police boots that you should consider. The list contains the best tactical boots that are not only comfortable and durable but also those that will enhance your foot performance when on-the-go.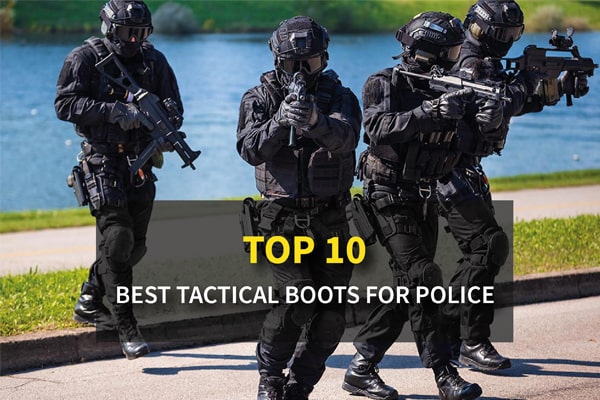 Top Rated 10 Best Tactical Boots for Police in 2021
1. Smith & Wesson Men's Breach 2.0 Tactical Size Zip Boots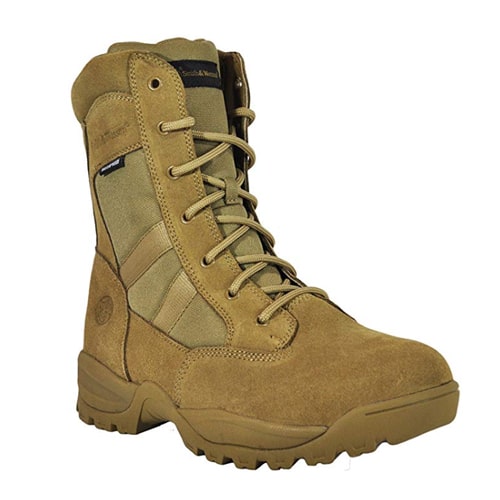 All police officers know the value of having good boots. That said, if you are in search of durable yet comfortable boots, look no further than these incredible pair by Smith and Wesson who are one of the most trusted brands of tactical boots.
This particular footwear is made using leather and nylon. Together, these materials offer complete protection to the wearer's feet without compromising on their comfort. Featured inside the boot is an EVA midsole that provides cradled and lightweight comfort. And for more even more support, the boot has a steel shank.
The best part about this tactical boot is the rubber outsole. It has been specially designed to reduce traction loss thanks to its inventive pattern that grips hard on waxed surfaces, slippery grounds, dirt, and even fences.
The only thing that most people complain about regarding these boots is that they are not breathable. This causes the boot's interior to heat up especially after long hours of wear.
PROS
CONS

Compared to other work boots, these boots have one of the most solid and durable construction
The boot is slip-resistant thanks to its rubber sole that greatly reduces traction loss
The boot is comfortable to wear even for long hours thanks to the EVA midsole
This high-quality tactical boot is available at an affordable price

They are not breathable and this makes their interior to heat up after a while
This Smith and Wesson's men's tactical boot is a high-quality and greatly constructed tactical boot that comes at a pocket-friendly price. No matter how challenging your job is, this is a boot that you can truly count on. They are one of the highest quality boots for police officers.
2. Under Armour Men's Stellar Military and Tactical Boot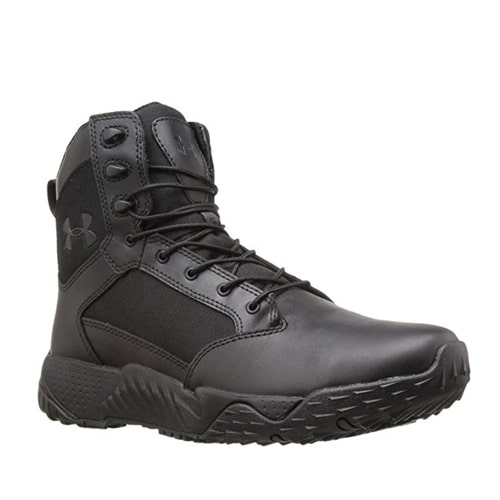 When you are looking for comfort, durability, and style in your boot, you cannot go wrong with the Men's Stellar Military and Tactical Boot by Under Armour. These particular footwear has been specially designed to effectively handle any tough conditions that you may experience while hunting down those bad guys.
The upper is made using DWR-treated, top-quality leather, which is further improved using nylon to provide maximum protection, water resistance, and flexibility. For added comfort, the boot's shaft stretches just above the ankles, comfortably covering them whilst reducing chaffing issues. And that is not all! Thanks to the EVA midsoles and ortholite sock liner, these boots remain comfortable on your feet all day long.
Aside from offering comfort, the incorporated EVA midsole also provides support and protection with the help of the TPU shank. In addition, the featured sock liner has anti-microbial properties that protect the wearer's feet against odor-causing bacteria.
A good pair of police boots should have a traction base and that is exactly the case with these boots. The traction base leaves you with the freedom to walk or run on whichever grounds without any worries of sliding or slipping.
The only downside is that the boots can be a bit challenging to wear and take off.
PROS
CONS

These are one of the most comfortable police boots
The boots come with an anti-microbial sock liner
They are the top lightweight police boots
treated leather and nylon materials used in the manufacture of the boots make them water-resistant

Wearing and taking off the boots could be a bit challenging
This pair of tactical boots has all it takes to meet the demanding requirements of any law enforcement job. It is a worthy purchase.
3. 5.11 Tactical ATAC Men's 8″ Leather Jungle Combat Military Coyote Boots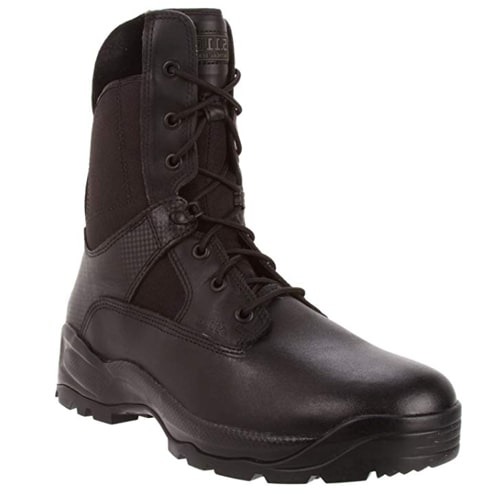 This 5.11 Tactical ATAC military boot not only looks the part but also plays the part. The boot is constructed using 100 percent leather and 1200 D nylon, which both works to ensure that this footwear is not only durable but water-resistant as well. And its synthetic sole offers great comfort even after prolonged hours of wear.
The most impressive feature of this boot is the hidden side pocket. This secret side pocket allows you to store small knives; you never know when and where you will need them. In addition, the boot has an anti-bacterial lining that helps to prevent the build-up of bad odor-causing bacteria in the shoe's interior.
Another incredible feature of this 5.11 Tactical boot is the anti-slip sole that provides sufficient grip when walking or running on slippery grounds. In addition, the boot has a triple-stitching that ensures its durability and keeps it looking ever-new even after extended periods of use.
Because of its incredible features, some people tend to find the boot to be a bit pricey.
PROS
CONS

This is a strong, durable, and comfortable tactical boot
The slip-resistant sole offers incredible traction to most surfaces
These are good tactical police boots for running
The featured anti-bacterial lining prevents the build-up of odor-causing bacteria
The boot is completely water-resistant

The boots are a bit pricey
The boots are slippery on snow and ice
5.11 Tactical boots are well-known for their comfort, strength, and durability. This particular design is no different. From then extended shafts to the slip-resistant sole, this boot has all you need to keep up all day with your tough job.
4. Bates Men's GX-8 Gore-Tex Waterproof Boot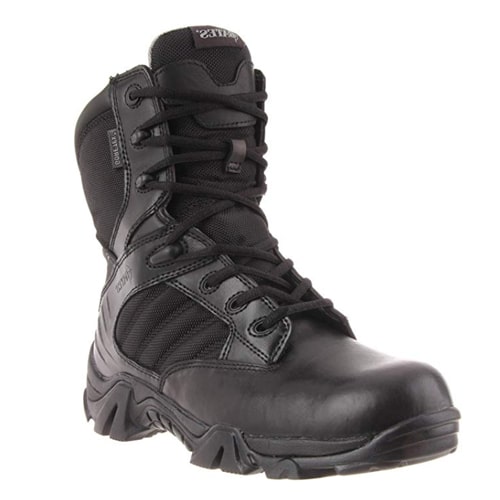 If you are in search of the top rated waterproof police boots you have to consider these GX-8 Gore-Tex waterproof boots by Bates. Just as suggested in the name, these pair of boots are capable of handling wet conditions. They are also similarly competent when utilized in other demanding surroundings and conditions.
With an approximate weight of just 3 pounds, this pair of police boots are ideal for those users who are always on the move. They are not only perfect for military, police and law enforcement officers but also for individuals who enjoy biking, running, or hiking.
The upper part of the shoe is made using full-grain leather that's further enhanced using ballistic nylon. This combination guarantees maximum protection, flexibility, as well as comfort. And thanks to the 8-inch shaft, these boots provide remarkable support to the wearer's feet.
Most users, however, do not like the fact that these boots are expensive. This is because they wear out easily and fast.
PROS
CONS

The boot has an incredible construction that ensures its durability
These are police waterproof boots
The side zipper makes it easy to both wear and take off the boots

They are costly
They wear out easily and fast
With this pair, you shouldn't find it difficult to accomplish your assigned tasks.
5. Danner Men's Tachyon 8″ GTX Duty Boot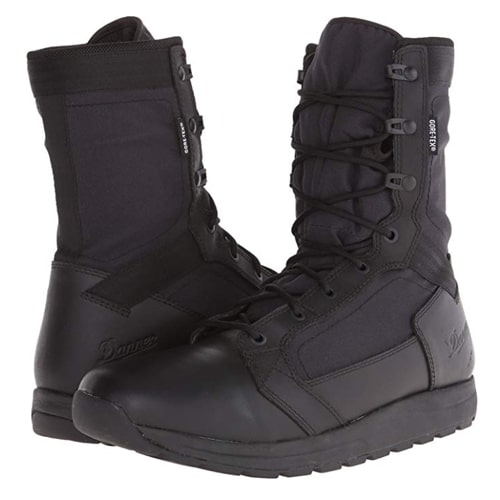 This is one of the best police duty boots available on the market today. The boot is made using full-grain leather and it features a breathable Gore-Tex liner that's designed to ensure that your feet are always dry and comfortable even in unpleasant weather conditions.
These black leather police boots work boots feature an EVA midsole for added comfort as well as shock absorption purposes, which means that your feet will hardly feel those sudden hits that you might experience along the way. And for sufficient airflow, the boots have a polyurethane footbed.
One of the features that make this pair of work boots stand out is the speed lace-up system accompanied by the durable brass hardware, which offers you sufficient support whilst making it easy for you to quickly put on and take off your boots. In addition to these, the rubber outsole provides great surface contact and traction.
The only thing to dislike about this pair is its price; it is really expensive.
PROS
CONS

The shoes are made using 100 percent leather which ensures their durability
The boots feature a waterproof design
The boot's footbed offers great shock absorption

They are expensive
The boots do not have any side protection
These Danner work boots are one of the most flexible and lightest boots that one can get for combat training as well as daily use. In fact, they might be the top boots for academy in this list.
6. Under Armour Men's Valsetz RTS Side Zip Military and Tactical Boot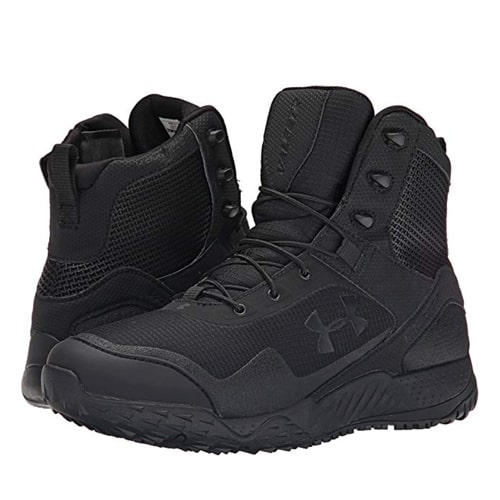 Under Armour has done it again with this Men's Valsetz RTS side zip military and tactical boot. This particular design feels as if it is the hybrid of a work boot and tennis shoe. It is indeed an amazing piece of work!
This particular pair is perfect for obstacle courses or infantry use as it provides the foot-strike guidance as well as the flexibility that permits you to easily shift from impact to forward thrust. The boots also offer sufficient shock absorption as well as proper cushioning to the wearer's feet.
My favorite part about this tactical boot is the EVA midsole. This midsole conforms to the wearer's feet properly cushioning their feet, and this makes this pair the highest-quality boots for plantar fasciitis. In addition, the interior of the boot has an ortholite sock liner that provides additional cushioning as well.
The incredible features don't end there! This boot is water-resistant, which makes them suitable for use even in wet conditions. The pair also has an anti-slope rubber outsole that provides incredible traction across all surfaces.
The major downsides, however, to this boot are that it is expensive and that it ages badly.
PROS
CONS

This is a lightweight and waterproof pair of tactical boots
The outsole is made using rubber thus offering incredible traction across most surfaces
The shoes are comfortable to wear

These are an expensive pair of tactical boots
The boots age badly; they wear over time
If you are a lover of style, then you will certainly be impressed by this pair. They are not only stylish but also waterproof and very comfortable.
7. Danner Men's Acadia 8″ Boot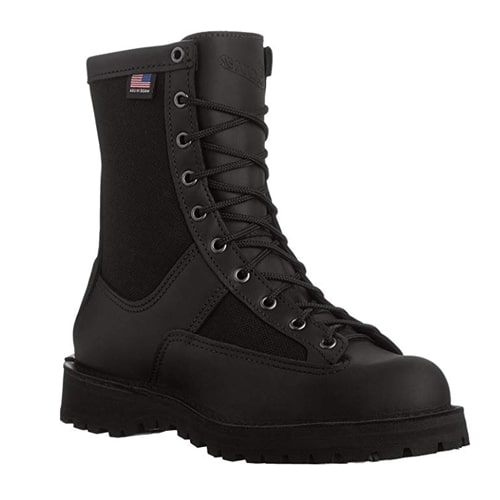 Are you in search of both comfortable as well as durable police boots? If that is the case then you'll be impressed by this particular pair by Danner. These boots are highly durable, comfortable, slip-resistant and most important of all, they will make sure that your feet are always fresh and odor-free all through.
By purchasing this pair of Danner police boots, you will not only be investing in durability, protection, and safety but also maximum comfort for your feet. This is indeed a complete package; what more could one want from their police boots? This footwear feels more like sneakers convey the highest comfort levels, thus making your demanding day better.
In addition, the top-quality leather used in the construction of these boots makes them quite durable. You can wear these boots for several seasons before they finally wear out. And the best part is that these boots are breathable thus ensuring that your feet are always dry and comfortable all through.
With these boots, you don't have to worry about the surface you are walking on thanks to the slip-resistant outsole. The outsole provides the traction needed to ensure your stability on the ground.
This pair, however, has two main shortcomings. It is expensive and it features a stiff design.
PROS
CONS

These boots feature a scratch-resistant shaft that guarantees the protection of your feet
The slip-resistant outsole ensures your stability on slippery grounds

These tactical boots are expensive
The boots have a stiff design
Would you like to spend your money on a pair of boots that will serve you for several years to come? Most probably yes. You will not regret investing your cash in these boots.
8. Maelstrom Men's PATROL 6″ Tactical Duty Work Boot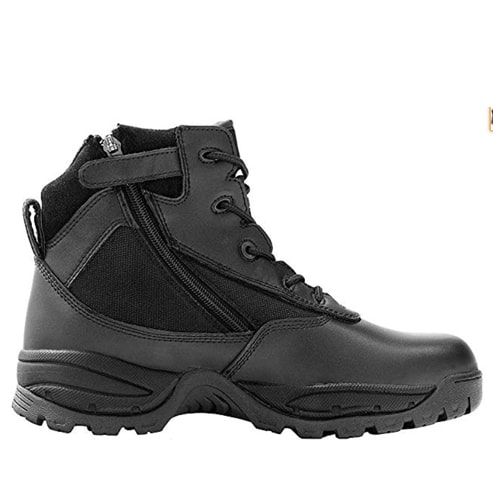 This is not your ordinary tactical work boot. Made using 100 percent leather, these 6-inch long athletic police boots feature an incredible design that guarantees their suitability for use as military boots.
First is the rubber outsole that offers incredible grip when used on slippery grounds. This gives you the freedom of using the boots on all sorts of grounds and surfaces without any concerns of sliding and slipping. Another great feature is the breathable lining that offers proper aeration and ensures that your feet are always dry and cool.
The best part is the removable shock-absorbent insert that offers extra comfort for your feet. The boot's padded tongue and collar also offer additional comfort to your feet.
The thing that you will most likely dislike about this boot is the weak zipper that breaks just after a couple of uses.
PROS
CONS

The boots are highly breathable
They are light in weight and are comfortable on the feet all day
The boots feature an incorporated shaft for added support and stability

The boots have a rather narrow fit
The boots have a weak zipper that breaks just after a couple of uses
If you want a super comfy and lightweight tactical boot, then this should among your top picks. This pair is among the excellent police work boots. It is a great choice.
9. Magnum Men's Stealth Force 6.0 SZ Composite Toe Boot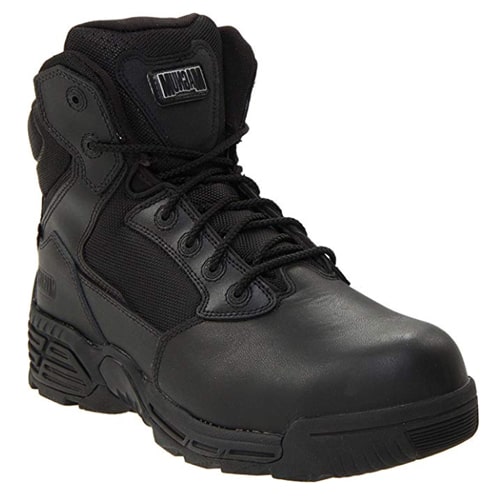 If you are always putting your life at risk to save others, then you need comfortable boots to protect your feet. That incredible pair of tactical boots is none other than the Men's Stealth Force 6.0 by Magnum.
The rugged and tough boots come with a rubber outsole, an extremely comfortable EVA midsole, as well as a leather upper to ensure that your feet have ample support, comfort, and protection. The EVA midsole also conveys added underfoot smoothness, therefore ensuring that your feet do not feel the ground impact.
Other incredible features of these high gloss police boots include the YKK rounded zippers that allow for easy wear and removal of the boots and the composite shanks that offer support to your arches whilst preventing foot fatigue and strain. Also included on these boots are nylon mesh panels (at the upper part) that promote ventilation as well as breathability.
The main thing that I particularly dislike about these boots is their narrow fit. Other than that they are a great pair.
PROS
CONS

These are durable as well as highly breathable tactical boots
Their high-traction rubber outsole is capable of handling all kinds of terrain
These shoes are water-resistant

The boots have a stiff and narrow fit
These Magnum boots will take proper care of your feet, thus leaving you with the peace of mind needed to effectively go about your daily duties.
10. Forever Link Women's Round Toe Military Boots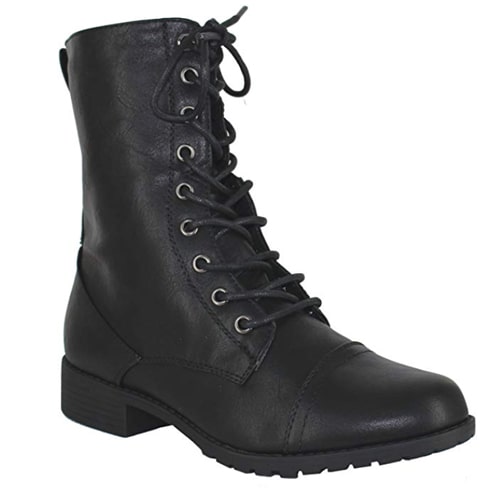 Who said policewomen can't have stylish boots! These Forever Link women's military boots are a great choice for female law enforcers. You cannot go wrong with these remarkable pair of combat boots.
These female police boots are easy to put on and take off thanks to the slip-on design with an inner zipper and adjustable laces. In addition, the boots are made using high-quality leather material and fabric, which makes them highly durable.
Apart from being a functional pair of police boots for females, this footwear can also be used to complete your everyday casual look. The boots are trendy and have become a modern wardrobe must-have! They are perfect for both winter and summer. They are high rated winter police boots as well as summer police boots in this list.
What people love most about this pair is that it is constructed using vegan faux leather. This means that they are eco-friendly and you can purchase them guilt-free.
On the other hand, these boots tend to wear and tear quickly. They are somewhat low-quality boots.
PROS
CONS

They are a fashionable pair of tactical boots
The boots can be worn with your everyday outfits
They are eco-friendly; they have been made using vegan faux leather

These boots easily wear and tear
Looking for an eco-friendly pair of tactical boots? Look no further than this gorgeous and stylish pair.
Conclusion
Owning the best tactical boots for police will leave your feet feeling a lot better after a long, tiresome on the job. As you know, there are lots of tactical boots out there and not all of them are good quality boots. That said, you cannot go wrong by getting yourself any pair of tactical boots that have been mentioned in this list.
Remember, the good police officer boots are those that are comfortable, durable and also well designed for all types of terrain.