Most individuals tend to think that having a tactical flashlight that can carry could be a hassle because they are either bulky or too big.
Fortunately, manufacturers are now creating pocket flashlights that are suitable for everyday carry; they are not only light in weight but also small enough to fit in any pocket.
Choosing the best EDC tactical flashlight can be daunting particularly because of the numerous brands and models that are available today.
Every manufacturer will claim that theirs is better than its competitors. For that reason, I have come up with a list of ten of the best flashlights for everyday carry below.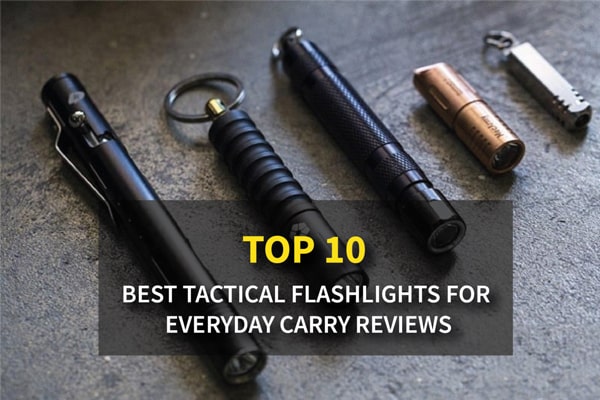 1. J5 Tactical V1-PRO EDC Tactical Flashlights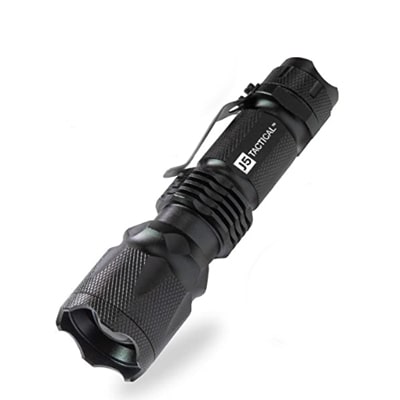 If portable powerful and durable are what you need in your EDC flashlight, then look no further than this incredible Tactical V1-PRO flashlight. With a lighting capacity of 300 lumens, this flashlight is capable of lighting up any dark corners or corridors without any trouble.
Featuring an aluminum alloy body, this flashlight is quite strong and durable. It can withstand several hard falls without any damages. Its small size makes it a favorite among many users as it can easily fit in most purses, pockets, and glove compartments in vehicles.
One of the best things about this J5 flashlight is that its light can be adjusted to either produce a wide floodlight beam or a more focused narrow beam depending on your needs and the task at hand.
It also has three different lighting modes; high, low and strobe modes, which are also adjustable depending on your needs.
This flashlight uses a single AA battery, which conveys remarkable power in comparison to other AA everyday-carry flashlights available on the market today.
It is quite impressive how a single AA battery will provide you with a whole solid hour of consistently bright light with this J5 flashlight.
The AA batteries are, however, not included in the package and thus have to be purchased separately. And apart from the AA battery, this flashlight can also be powered by a 14500 rechargeable battery, which is also separately sold.
The only downside is that its manufacturer's mention nothing regarding its waterproof properties.
Pros
It produces powerful lighting of 300 lumens
The lighting focus can be adjusted to suit your needs
It is strong and durable
It has two powering options
Cons
The flashlight is not waterproof
The AA batteries are not included in the package
Simply put, this a powerful and strong little flashlight that has a lot to offer for its price range.
2. Streamlight 66118 Stylus Pro LED EDC Tactical PenLight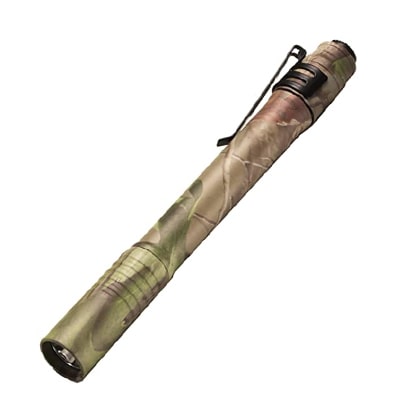 This is one of the best pocket-sized flashlights. It is a USB gadget that suitable for both DIY and professional use. What, however, makes it rather handy is its powerful light output.
This flashlight is capable of producing 90 and 250 lumens when on its lowest and highest light settings, respectively. It is one of the brightest pocket flashlights you can find today. Its runtime is about one and a half to about four hours depending on the setting being used.
This penlight boasts of a lightweight and stylish design. It is really convenient as it is easy to carry around because of its small size.
Its compact design, nonetheless, doe not impact its strong construction. Made from anodized airplane-grade aluminum, this is one of the strongest mini-sized flashlights that you'll come across today. In addition, it is water-resistant and impact-resistant as well.
Lastly, you could recharge this gadget on-the-go using a USB cord or a suitable AC adapter.
Its major drawback is the limited battery life. This penlight needs to be recharged quite often. Other users also complain about the on and off button being difficult to press.
Pros
This is a strong and durable flashlight thanks to the anodized airplane-grade aluminum body
It is water-resistant
It is impact-resistant
It features numerous lighting modes and is rechargeable
Cons
It has a short battery life
It is somewhat expensive
If you are a lover of style, then this is the flashlight for you!
3. Streamlight 88033 ProTac 2AA 250 Lumen Professional EDC Tactical Flashlights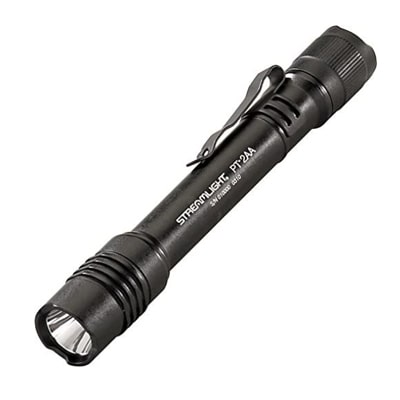 Here is another incredible mini-sized tactical flashlight from Streamlight; the Streamlight 88033 ProTac 2AA Lumen Professional Tactical Flashlight. It is compact enough to fit in any pocket and weighs in at just 3.36 ounces.
What I like most about this device is its power output. Using the advanced C4 LED technology, this flashlight produces 250 lumens on a high setting and 18 lumens on a low setting.
The run time is 2 hours and 48 hours for high and low light settings, respectively. Also included is a strobe light setting that runs for several hours. All this power is produced from two AA batteries that come included in the package.
It is also worth noting that this flashlight is waterproof (IPX7 rating) and has been constructed using anodized aircraft-grade aluminum.
You might, however, want something that is a bit smaller. This Streamlight flashlight is somewhat large in size in comparison to most other everyday carry flashlights. Other than that, there is absolutely nothing not to love about this gadget.
Pros
It uses C4 LED technology
It is strong and durable
It has powerful power output; 250 lumens
It features a compact design
Cons
It is somewhat larger in comparison to its competitors
This should be one of the top choices for individuals who are looking for high power outputs in their penlights. This flashlight is capable of lighting up a distance of up to 40 meters.
4. Streamlight MicroStream Ultra-compact Aluminum EDC Tactical Flashlights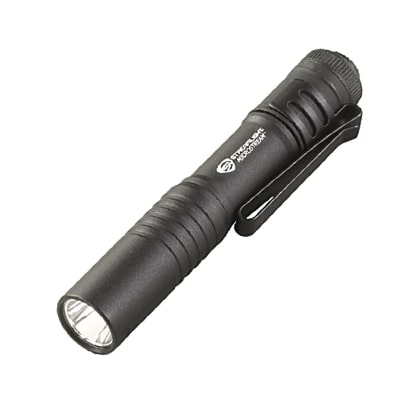 Just as indicated in the name, this flashlight from Streamlight features a compact design and is specially intended for convenient usage.
A constant or temporary on operation, push-button tail cap switch, and a powerful light output are a few of its great features.
Powered using a single AA alkaline battery, this super-compact flashlight features a strong aluminum body with military special type II anodizing, which keeps it durable, scratch-resistant, and incredibly light in weight.
This flashlight utilizes C4 LED technology to produce fairly bright light and has a runtime of 30,000 hours. It can last you almost a lifetime!
At its highest light setting, it produces 45 lumens with a lighting distance of 52 meters. This gadget is perfect for low-light jobs but too bright for jobs such as carrying out pupil examinations on patients.
It is very light in weight. In fact, you might even forget that you are carrying it in your pocket as you will barely feel its weight; this is something that's only found in the best pocket EDC flashlights.
It is, however, weird how one of its faults is its size; it is smaller than a regular pen. You might, therefore, easily lose it. It is also not rechargeable.
Pros
It is one of the best cheap EDC flashlights
It is small in size and easy to carry around
It produces bright light
Cons
It is not rechargeable
It is not suitable for heavy-duty jobs
Do not let its small size fool you! This Streamlight flashlight comes with lots of incredible for its tiny size and cheap price. If you are in search of the best EDC flashlight under 50, look no further.
5. COAST HP1 190 Lumen Pure Beam Focusing LED EDC Tactical Flashlights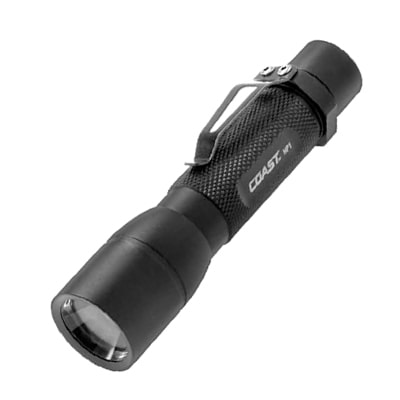 If you are in search of a compact, affordable, and bright flashlight that is perfect for everyday carry, this Coast flashlight should be among your top considerations. It is one of the brightest EDC flashlights on this list.
This Coast HP1 190 Lumen Pure Beam Focusing LED Flashlight features a strong aluminum casing, which is not just impact-resistant but also dust and corrosion-resistant as well.
It utilizes a patented beam focusing lighting system that allows the user to switch between an ultra-view flood beam and a bulls-eye spot beam, making the flashlight useful for both far away and close up lighting.
The device also uses a powerful LED bulb to produce a steady light beam of 190 lumens. This light brightness is enough to light up any dark corner or corridor.
This flashlight also has three powering options; it can be powered using a single AA battery, a NiMH rechargeable battery, or a 14500 lithium battery.
It is all up to you to choose the option that suits you best. Note that the battery option you pick will only affect the flashlight's runtime but not its level of brightness.
Another useful feature is the adjustable pocket clip. This clip is used to hold the light in place to prevent any unnecessary drops. This makes it one of the best pockets carry flashlights today.
The only thing that you might dislike about it is the switch button. It is difficult to press.
Pros
It comes is fairly priced
It is compact and small in size
It is strong and durable thanks to the aluminum casing
Cons
The switch button is difficult to press
Anyone in search of a powerful and compact flashlight that they can easily carry around every day will love this product. It is not only affordable but quite strong as well.
6. COAST G19 Inspection Beam LED EDC Tactical Penlight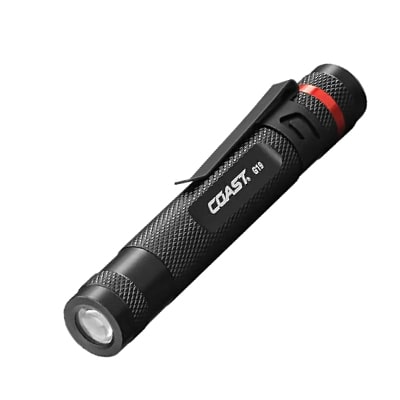 The importance of adding to your survival kit cannot be stressed enough. You never know when the need will arise, and it is thus always better to have one than not have one included.
Most people, however, assume that their survival kit's flashlight has to be expensive, which is far from the truth.
Even though good EDC flashlights are what actually works best for most emergency situations, one does not necessarily have to spend a lot to obtain the best quality.
The Coast G19 Inspection Beam LED Penlight is a good example of such. This particular flashlight is shaped and sized like a pen, which makes it very easy to carry.
With a maximum light output of 54 lumens, this device is perfect for close-up tasks. It has significantly low light output in comparison to most other mini-sized flashlights.
Nonetheless, given that it is so cheap, you could actually purchase more than one piece and have them around your house. What's more, it is water and impact resistant.
Its only downside is that its light is not really bright enough to light up all conditions.
Pros
It is small and compact hence easy to carry around
It is really cheap; it is among the best EDC flashlights under $50
It is both water and impact-proof
Cons
It has a significantly low light output
Tiny, compact, and cheap, this Coast flashlight might be tiny in size but delivers great performance. It is among one of the best tactical flashlights available on the market today.
7. OLIGHT 90 Lumens i3E EOS PMMA TIR Lens AAA EDC Tactical Flashlights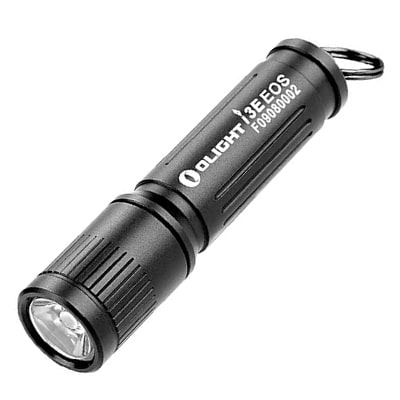 At times, even though you have the largest and most pricey flashlight on the market, you might still need a small flashlight with you; one that is easily portable and easily fits in any pocket.
Luckily, manufacturers are now making flashlights that are small enough to attach to a keychain and carry in your pocket.
A good example of such is the Olight 90 lumens i3E EOS flashlight. This flashlight is reasonably priced (less than 10 dollars) and emits 90 lumens of clear light- light that is enough to satisfy anyone in need of some clarity.
Bear in mind that this particular flashlight is, however, not intended for heavy-duty tasks. It is mostly suited for low-light demanding situations.
It is powered using one AA battery and is completely waterproof.  And similar to all other Olight flashlights, this particular model features a high-performance LED with a run time of 60,000 hours as well as an aluminum reflector.
Its major shortcoming is that it is not rechargeable. This means that you will constantly have to keep on replacing the AA battery.
Pros
It is small in size and light in weight, which makes it easily portable
It features a high-performance LED
It completely waterproof
Cons
It is not rechargeable
This flashlight is not suitable for heavy-duty use
If you are an individual who never leaves their home without carrying a flashlight, then this is the perfect choice for attaching to your keychain or belt.
8. Fenix E12 EDC Tactical Flashlights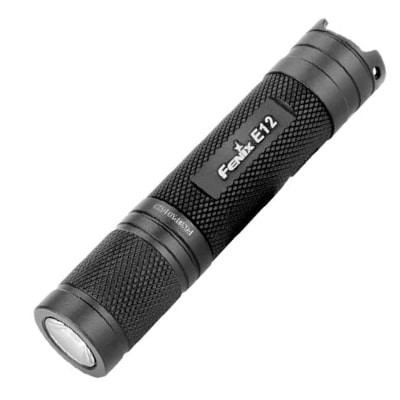 Next in this list is the Fenix E12 flashlight. This is a well-constructed, pocket-sized flashlight that's capable of meeting all your lighting needs.
With a number of light settings to choose from, this tiny flashlight is versatile and comes in handy for a number of situations. Its 50-lumen medium light setting lasts for about six and a half hours, while the 8-lumen low light setting can last for about 40 hours. Its highest light setting emits 130 lumens of bright light. You could either use AAA or AA batteries to power it up.
Made from strong aircraft-grade aluminum, you can rest assured that this flashlight will last you an entire lifetime; it is super-strong and durable.
Also incorporated on this flashlight's housing is a tough anodizing coat for additional resilience against abrasions and corrosion.
You will also be happy to know that this Fenix flashlight model is waterproof. It can stay underwater for 30 minutes without any worries of damage. And being only four inches long and weighing less than two ounces, you will barely feel or notice it when carrying it around.
One thing, however, that most users complain about is the flashlight warming up when used in its highest light setting.
Pros
It pockets well
It is a strong and durable flashlight
It features great light settings
It can be powered by either AAA or AA batteries
It has an excellent beam spread
Cons
It can get a bit warm when used on its highest light setting
This is without a doubt a great mini-sized flashlight with lots of great features. It is a worthy purchase.
9. Thorfire 18650 EDC Tactical Flashlights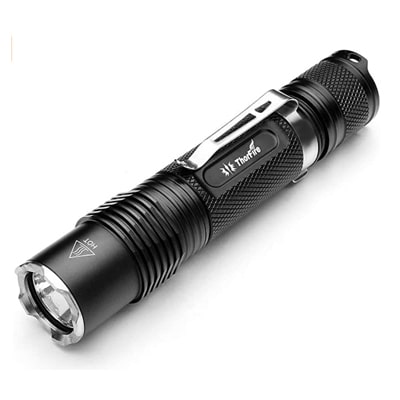 Anyone in search of a bright flashlight will certainly be impressed by this particular model. This Thorfire flashlight has a powerful light output of an incredible 1070 lumen, making it the brightest every-day carry flashlight on this list.
And not is the emitted light powerful, but it is also capable of reaching long distances (600 feet away).
Featuring five different modes to pick from (high, low, medium, firefly, and turbo), you will certainly enjoy using this flashlight. It features a tail switch for turning the light on and only needs a simple click to switch it off.
In addition, it has an 1850 lithium battery that lasts longer in comparison to most AA batteries. This means that you can expect a long-lasting battery with this particular flashlight, which is exactly what s needed in survival situations.
That's not all. This flashlight features a detachable clip that makes it easy to attach to your belt or survival gear. It is also compact and light in weight and so will not weigh you down while on the run.
Some users, however, complain that its switch button is not that reliable.
Pros
It emits extremely bright light (1070 lumens)
It has five different light modes
It is very easy to operate
It is one of the best rechargeable EDC flashlights
It is easy to attach and detach to your belt
Cons
Its tail switch button is not that reliable
This Thorfire flashlight features one of the brightest light outputs I have ever seen in an everyday carry flashlight. For such a tiny flash, such brightness is just incredible; this is one of the best everyday carry flashlights.
10. Olight S1 Baton Cree Xm-l2 EDC Tactical Flashlights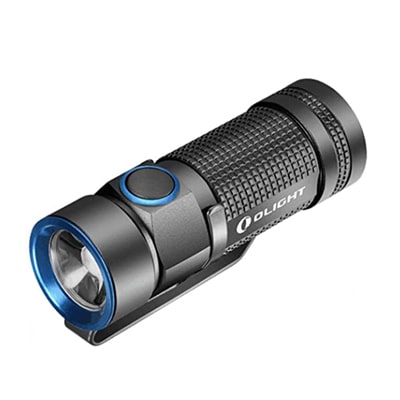 Nothing is better than a tiny flashlight that's capable of powerful illumination.  And even though small flashlights are normally underestimated, what most people do not know is that they are simply the outcome of packing all the features of standard flashlights into much smaller compartments.
The S1 Baton Cree from Olight is the smallest flashlight made by the company. Weighing in at 1.06 ounces and only 24 inches long, this flashlight can certainly fit in any pocket; it is one of the best-concealed carry flashlights today.
And the best part is that this tiny lighting device is capable of producing 500 lumens of light, which is something that's found in bigger flashlights.
Also included are a couple of light modes. The moonlight mode, which the lowest setting, has a light capacity of 0.5 lumens. There is also an 80 and 8 lumens mode. Additionally, there is a strobe light mode that's perfect for emergencies.
The one thing I do not like about it is that it easily heats up during use.
Pros
It features a tough and strong construction
It is compact and powerful; it is one of the best small EDC flashlights
It is available at an affordable price
It produces bright light on the highest setting; 500 lumens
Cons
It is not rechargeable
It easily heats up during use
Whether you are in search of something to add to your survival kit or are simply in need of a lightweight flashlight to carry in your camping trip, this Olight tactical light model is a choice to consider. It is a nice choice for those shopping on a budget.
Conclusion
A flashlight is among those devices that you never really think much about until the need for it arises, tactical shotgun flashlight. Therefore, having a light and compact one with you at all times is a wise idea as you never know when you will need it. That's why EDC flashlights come in.
The best EDC tactical flashlights are versatile, portable, bright, and also light in weight. These are some of the features to consider when choosing the flashlight to purchase.
Investing in an EDC flashlight is a wise thing to do. The above list will hopefully help you make the right choice.